EXCLUSIVE: Jesse James' Sister Supporting Him In Bitter Custody Battle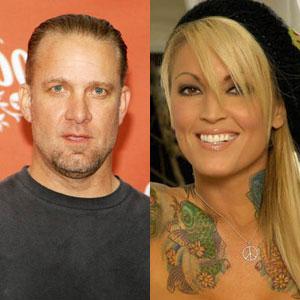 Jesse James' sister Julie James England will appear in court next Monday to support her brother in his bitter custody battle with ex-wife Janine Lindemulder over their 7-year-old daughter Sunny James, RadarOnline.com is reporting exclusively.
England has constantly sided with her famous sibling, despite all his recent troubles after his marriage to Oscar winner Sandra Bullock ended when he was exposed as a serial cheater.
Article continues below advertisement
However, Lindemulder does not think that England's appearance at the July 12 custody hearing at Orange County Family Court will have any great bearing on the outcome.
EXCLUSIVE: Jesse James' Ex-Wife Splits With Husband To Pursue Custody Claim
A source revealed to RadarOnline.com: "Janine is clean right now and has complied with the courts that is all that matters.
"Julie has always sided with her brother, so, it is no great surprise that she would want to appear in court to support him.
Article continues below advertisement
"It's Jesse that has not been following court orders by not allowing Janine to see Sunny recently."
RadarOnline.com revealed how Lindemulder recently contacted Orange County police because she feared for her own safety -- believing that James would try and tamper with her food and drinks so that she failed mandated drugs tests.
And she did not get to see Sunny over the 4th of July holiday weekend or at other recent unsupervised visits ordered by the court.
Commissioner Thomas Schulte recently granted unsupervised visits for Lindemulder with Sunny, but it appears James has not been abiding to the guidelines set down by him.
James is planning to re-locate to Austin, Texas -- where Sandra Bullock has a home and several businesses -- with Sunny.
His first wife Karla already is making arrangements to make the move as well with their two kids Chandler and Jesse, Jr.
As RadarOnline.com previously reported, James signed divorce papers last month that marked the end of his marriage to the Oscar-winning actress.
While James has his sights set on Texas, Bullock has been settling into her new home in The Big Easy, as the actress recently bought a house in New Orleans, Louisiana, the hometown of her adopted baby boy, Louis Bardot.