EXCLUSIVE: Jesse James' Ex-Wife Claims She Wasn't Allowed To See Sunny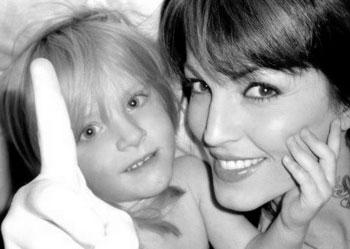 Janine Lindemulder did NOT get to see her daughter Sunny over the 4th of July holiday weekend despite the fact that ex-husband Jesse James had been ordered by the court to grant her an unsupervised visit, RadarOnline.com can reveal.
Things have gone from bad to worse between the former porn star and the motor bike mogul in their bitter custody fight for their seven-year-old daughter.
RadarOnline.com revealed how Lindemulder recently contacted Orange County police because she feared for her own safety – believing that James would try and tamper with her food and drinks so that she failed mandated drugs tests.
Article continues below advertisement
A source told RadarOnline.com: "Jesse was in breach of the court orders after he failed to allow Janine to see Sunny.
"She was supposed to have two visits with her last week and to spend six hours with her over the weekend but this did not happen.
"Janine is also permitted to speak with Sunny three days per week too but these calls also failed to materialize.
"Then one day Sunny appeared totally unannounced on her door-step - it is as if Jesse is trying to catch her out.
"She has documented all the missed visits with her lawyer and they will be presented at the next custody hearing on July 12, 2010.
"It gets her pretty down when she does not get to see Sunny but Janine doesn't expect much from Jesse at this point as he just does not want to co-parent with her."
Comment is being sought from James.
EXCLUSIVE: Jesse James' Ex-Wife Splits With Husband To Pursue Custody Claim
Article continues below advertisement
Commissioner Thomas Schulte recently granted unsupervised visits for Lindemulder with Sunny but it appears James has not been abiding to the guidelines set down by him.
James is planning to re-locate to Austin, Texas -- where Sandra Bullock has a home and several businesses -- with Sunny.
His first wife Karla already is making arrangements to make the move as well with their two kids Chandler and Jesse, Jr.
MORE ON:
Janine Lindemulder
Article continues below advertisement
Sandra Bullock's ex-husband is also selling his Sunset Beach, California condominium, and recently dropped his asking price on the dwelling from $1,290,000 to $1,195,000, RadarOnline.com has learned.
The property is close to another four-bedroom beachfront house Bullock and James once lived in that is also for sale, with an asking price of $6,750,000.
As RadarOnline.com previously reported, James signed divorce papers last month that marked the end of his marriage to the Oscar-winning actress.