Exclusive
EXCLUSIVE: Jesse James' Ex Furious He Left Town Without Letting Daughter Say Goodbye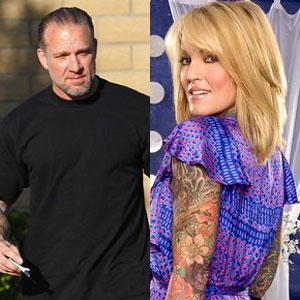 Jesse James' ex-wife Janine Lindemulder has blasted the West Coast Choppers CEO for not allowing her to say goodbye to their daughter Sunny before he moved to Texas, RadarOnline.com has learned exclusively.
The former porn star thought James and his three kids were moving to Austin last Friday and was later devastated when she learned they did not leave until the following day.
"I gave up time with my daughter so that Sunny could travel with her dad," Janine said. "But I could not get her on the phone until I finally spoke to her on Friday evening when Sunny told me that she had been at home in California all day.
Article continues below advertisement
"I sat at home crying when I could have been with my daughter but Jesse just did not care, he was being cruel and selfish.
"On Saturday she spent the whole day traveling so I never actually got to say goodbye in person to her."
Janine is in the process of figuring out when she can see Sunny next. "I'm still trying to make arrangements to go and visit her in Texas but I may split my time in Oregon too where my son and other family are," she added.
James drove the 1400 miles from his home in Seal Beach to Austin where he recently splashed out $2.5 million on a new mansion.
James is starting a new life with Sunny plus his other two kids Jesse Jr. and Chandler. His first wife Karla is also re-locating. Oscar winner Sandra Bullock - who divorced James after he was exposed as a serial cheater – also owns a home in Austin and revealed recently that she had "encouraged" James to make the move.