CUSTODY BATTLE: Sandra Bullock Trying To Replace Me As Sunny's Mom, Jesse James' Ex Tells Court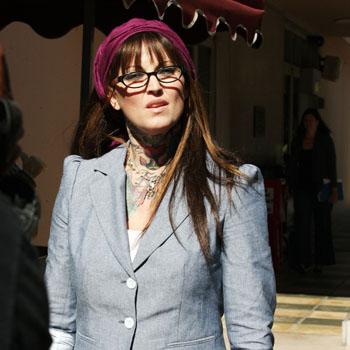 In a shocking courtroom accusation on Tuesday, Jesse James' ex-wife, Janine Lindemulder, said at the custody hearing that she believes James was trying to replace her as a mom with Sandra Bullock.
RadarOnline.com was in the courtroom as the former porn star, who claims she is broke, said she does not want her six-year-old daughter Sunny to relocate to Texas with her father and explained that she can't compete with the Oscar winner's wealth.
Article continues below advertisement
"Sandra Bullock might as well be the Mayor of Austin and I am going in like the black sheep. Jesse will follow Sandra wherever she goes. I can not compete with what they gave to offer Sunny with these incredible mansions and lifestyles," Lindemulder said.
Lindemulder doesn't have any communication with Bullock and believes the situation will only get worse if James is permitted to relocate to Texas with their daughter. "He does not want me in the picture, he is negative. We couldn't come to an agreement when we only lived 15 miles apart. So I believe I am trying to be replaced by Sandra Bullock," she said.
The estranged mom added: "I will be there for my daughter's every beck and call whereas Jesse and Sandra can not." She said she does not share James' concerns about the paparazzi stalking Sunny at the Waldorf School in Orange County, California.
Commissioner Thomas Schulte of the Orange County family court conceded that the power couple can offer the six-year-old a better lifestyle than Lindemulder but he insisted that would have no bearing on the custody case.
Article continues below advertisement
Lindemulder told the court that she is no longer working in the adult entertainment industry – and instead wants to attend Clown College because she would like to entertain old people and patients in hospitals. She added that Jesse's daughter, Chandler, has poked fun at her clowning aspirations to Sunny.
Lindermulder – who appeared with a new Mohawk haircut revealing fresh tattoos on her head – says she is willing to take drug tests every day for the rest of her life to prove she is clean, claiming she last took illegal drugs back in 2007. She is also currently in the process of dissolving her marriage to Jeremy Aikman.
MORE ON:
Celebrity Justice
Earlier in the custody hearing, a court-appointed monitor Richard Shunkey told the court that Lindemulder hung up on him after he told her he would check her for drugs before the first scheduled visit on June 12th. The meeting took place and was problem-free. The monitor told the court that he believed both parents had tried to accommodate one another despite the fact that only eight out of 15 visitations actually took place.
Article continues below advertisement
Under cross examination by James' lawyer John Schilling, Lindemulder admitted that she was taking Clonidine and Prestiq to deal w ith stress and that she suffered a stroke at Christmas 2009. Clonidine is used to treat high blood pressure and has other applications; Prestiq is an anti-depressant.
Lindemulder dismissed Schilling's claims that she was addicted to Vicodin but admitted that she takes small doses of it to cope with other illnesses. Schilling established that over the past few years Lindemulder had lived in various and half-way houses in both Oregon and California.
Schilling also criticized Lindemulder's choice of profession and questioned her appearance in the movie Dirty Desire, which was released this month. Lindemulder claims it was not pornography, just a series of vignettes that she was not aware had been turned into a movie.
The case continues.