EXCLUSIVE: Sandra Bullock Reunited With Jesse James' Daughter On Christmas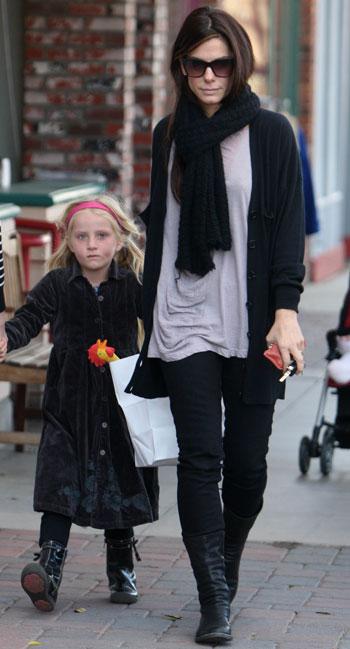 Sandra Bullock was reunited with Jesse James' daughter Sunny on Christmas Day, RadarOnline.com can exclusively reveal.
Sunny - who is at the center of a bitter custody battle between her parents, motorcycle mogul James and former porn star Janine Lindemulder – got to spend time with Bullock and her son Louis Bardot.
The reunion took place at the Oscar winner's home in Austin, Texas, which is close to where James also now lives.
Article continues below advertisement
A source told RadarOnline.com, "Sunny had a star-studded Christmas because she was with Kat Von D in the morning and then she saw Sandra in the afternoon.
"Even although Sandra and her father are no longer together they have remained in touch – she had fun seeing Louis and playing with him although she was not allowed to feed him.
"Despite everything that has happened between Sandra and Jesse, Sandra has remained in touch with Sunny and his other two kids Jesse Junior and Chandler too."
James bought a $2 million home in the Texas town -- which coincidentally, is his ex-wife Sandra Bullock's hometown -- shortly after his marriage with The Blind Side star crumbled, with the revelations of James' serial cheating dominating the tabloids for months.
But any attempts to rekindle their romance crumbled and he started dating celebrity tattoo artist Kat Von D over the summer.
Ironically, RadarOnline.com revealed that Bullock actually rang in 2011 with Ryan Reynolds at her restaurant Bess Bistro in Austin. Reynolds and his wife Scarlett Johansson filed for divorce in December.
Article continues below advertisement
Bullock and Reynolds got friendly while they filmed The Proposal together and witnesses told our website that 'they danced the night away and were there until 1:00am.'
The source added that the stars had met up about "a month ago" at Walton's Fancy & Staple, another Austin, Texas restaurant Bullock owns.
"It was the talk of the town," the source said.
Both James and his ex-wife Lindemulder are involved in a bitter custody battle over Sunny and have been ordered by a judge to do a 730 Evaluation to improve their relationship.