Exclusive
EXCLUSIVE: Jesse James' Porn Star Ex-Wife Refuses HIV Test -- 'He's More Sexually Active Than Me'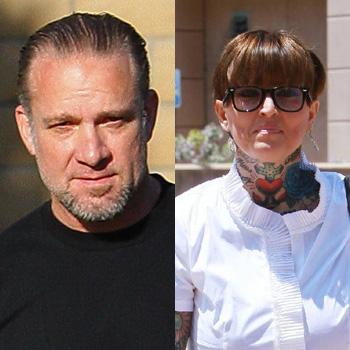 Janine Lindemulder has refused Jesse James demands that she take an AIDS test as a condition of seeing their daughter Sunny James, RadarOnline.com can exclusively reveal.
The bike mogul made the request to his former wife following the recent news that a young West Coast based male porn star had tested positive for HIV.
Former porn star Lindemulder – who was scheduled to see her daughter this weekend – was outraged at James' demand in the latest twist in their bitter custody battle for the six-year-old.
Article continues below advertisement
She told RadarOnline.com: "I decided that I would not take the test – the only person who could request this from me would be the judge in our custody case.
"Jesse has got a nerve – he has been more sexually active than me in recent times and if anyone should be tested then it's him not me.
"I had regular drug and HIV tests, both when I was in prison and after I was released, and I always passed them. I will probably have another test anyways before our next court date just to show that I'm being responsible.
"I know the name of the person concerned and never had any contact with him and I would never do anything that would potentially harm our daughter.
"I may have done porn but plenty of people in the adult entertainment industry have kids and have custody arrangements laid-down by the courts.
"And even if I was HIV positive, which I am not, I would still have rights to see my child - Jesse is just coming up with any excuse that he can to prevent me from spending time with Sunny."
Article continues below advertisement
RadarOnline.com broke the news that production in the adult film industry ceased on Tuesday when an XXX actor tested positive for the disease, and is connected to scores of the industry's leading porn stars.
Both Janine and Jesse are scheduled to return to Orange County Family Court on October 24 with Lindemulder requesting a '730' evaluation plus a modification in visitation and counseling for herself, Sunny and Jesse James.
Article continues below advertisement
She added: "Those reports are not true. I have not contacted her nor will I as I continue to fight to get to see Sunny on a regular basis."
EXCLUSIVE: Jesse James Claims Ex-Wife Threatened To Kidnap Daughter
James is currently dating Hollywood celebrity tattoo artist Kat Von D.
Calls to his rep by RadarOnline.com were not returned.
RELATED STORIES:
Jesse James & Kat Von D Step Out As A Couple