EXCLUSIVE: Jesse James Will Move Back To California For Kat Von D, Says Ex-Wife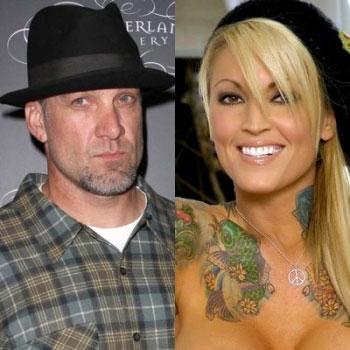 Jesse James ex-wife Janine Lindemulder believes that the biker mogul will quit Texas so that he can be close to his new love celebrity tattoo artist Kat Von D.
James re-located to the Lone Star State earlier this summer with his family so that they could be near his former wife Oscar winner Sandra Bullock -- but that plan seems to have back-fired big-time, RadarOnline.com has exclusively learned.
And now his Hollywood based girlfriend Von D has told him to pack-up his bags and head back to California as soon as possible.
Article continues below advertisement
Lindemulder – who is locked in a bitter custody battle with him over their daughter Sunny James – told RadarOnline.com: "I would not be surprised in the least if Jesse was back in California within six months.
"He did everything that he could to try and win Sandra Bullock back but it just didn't wash and now that he has Kat in his life why would he stay in Texas?
"All of his friends are in California and he was like a fish out of water in Austin which is really Sandra's town.
"The sad part is that he made the kids move there and now he will have to bring them all back again.
"He's a narcissist and if it means being with Kat Von D and all the publicity that will bring then I'm sure he will go for it.
"I guess I should be happy that he returns to California because I can be closer to Sunny but the truth is that no matter where I am he will always make me jump through hoops before I see our daughter."
MORE ON:
Janine Lindemulder
Article continues below advertisement
Ironically, since he moved to Texas in July James relationship with Von D seems to have gone from strength to strength.
She has traveled out to Austin to see him while he has been jetting into Los Angeles to spend weekends with the famous tattoo artist.
But now it's understood that she wants more of a commitment and wants James to come-back closer to her so that their relationship can develop further.
Both Janine and Jesse are scheduled to return to Orange County Family Court on October 24 with Lindemulder requesting a '730' evaluation plus a modification in visitation and counseling for herself, Sunny and Jesse James.
In July, Commissioner Thomas Schulte ruled that both parents would have joint legal custody of Sunny, but that it was in the child's best interest for her to live in with her dad in Austin.