PHOTOS: Jesse James & Kat Von D - An Inkling It's Love!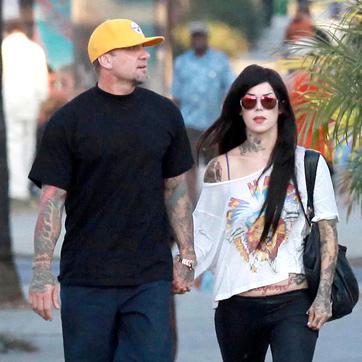 We have an 'inkling' - it's love!
Tattooed-covered lovers Jesse James and Kat Von D strolled hand-in-hand through West Hollywood on Sunday, and RadarOnline.com has the pics.
The lovey dovey couple stopped-off at El Compadre Restaurant and The Counter burger joint too.
Unlike his ex-wife -- Oscar winner wife Sandra Bullock -- celebrity tattoo artist Kat doesn't do designer labels.
While out with Jesse, she sported black spandex style pants and casual off-the shoulder graffiti top to compliment the biker mogul's street-look.
Article continues below advertisement
Von D picked-up James from LAX Airport on Friday after he jetted-in from his new home in Austin, Texas, so that they could spend the weekend together in L.A.
Ironically, James moved his family to the Lone Star state so that they could be closer to Bullock who also has a home in the area.
But shortly afterwards, he started dating Von D after any hopes of reconciling with The Blind Side star seemed to go up in smoke.
And to make matters even more complicated, he is still involved in a bitter custody dispute with his first wife former ex-porn star Janine Lindemulder over their six-year-old daughter Sunny.
RadarOnline.com previously revealed how James, according to Lindemulder, didn't respond to her email requests that Sunny be allowed to travel to her great-grandmother Gammy Lindemulder's funeral last Friday in California with Janine.
MORE ON:
Janine Lindemulder
Article continues below advertisement
EXCLUSIVE DOCUMENTS: Read Kat Von D's Divorce Papers
Lindemulder's mother Jonlyn told RadarOnline.com: "It's disgusting what he does to my daughter he just does not care.
"Janine did not get to see Sunny over the weekend and she is now heading back to California to prepare for their next court date.
"This man just thinks about himself, nobody else."
Both Janine and Jesse are scheduled to return to Orange County Family Court on October 24 with Lindemulder requesting a '730' evaluation plus a modification in visitation and counseling for herself, Sunny and Jesse James.
In July, Commissioner Thomas Schulte ruled that both parents would have joint legal custody of Sunny, but that it was in the child's best interest for her to live in with her dad in Austin
RadarOnline.com also recently revealed how Kat Von D - born Katherine Drachenberg - carried-out a ruthless divorce from her first husband Oliver Peck, so, let's hope that Jesse can keep her happier than Sandra and Janine!