Exclusive
For Love Or Money? Paul Walker's Mom Seeks Guardianship Of His Daughter — Which Comes With Control Of $16M Trust!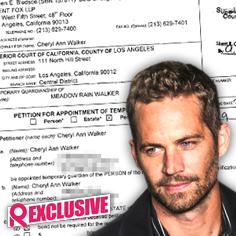 Nearly four months after Paul Walker's tragic death, his fifteen-year-old daughter Meadow is still a little girl lost. Meanwhile, her grandmother Cheryl Ann Walker has alleged in court papers that Meadow's mother Rebecca Soteros has a "drinking problem" and went to court on Monday, March 18, to ask a judge to make her the teen's guardian -- a move, RadarOnline.com has learned, that will also put her in control of a trust worth more than $16 million.
Article continues below advertisement
According to court documents obtained by RadarOnline.com, Cheryl told the court that Meadow "needs a guardian in place so that the money she is entitled to," at least $16 million in a trust left by the Fast & Furious star, "can be disbursed to the guardian," namely Cheryl. The documents insist that the funds given to Cheryl will be used "for the benefit of" Meadow, but it's unclear exactly how that will be policed, or if the teen will take over control of the funds when she turns 18 in a few years.
Why Is She Doing It? READ The Court Docs & YOU Decide!
In the meantime, Cheryl says, it's essential she be made guardian because Meadow's mother "has a drinking problem." She claims she is unsure whether Soteros will agree to the arrangement, although they are all currently living in the same house in La Canada, Calif.
Regardless of Soteros' opinion, it seems Meadow is on board with the plan. Cheryl claimed in the documents that the teen will appear in court for the April 30 hearing on the matter.
Article continues below advertisement