Coroner Releases Final Report Into Paul Walker's Death: Horrific Injuries Detailed, As It's Revealed Porsche Hit 100-Plus MPH Before Crash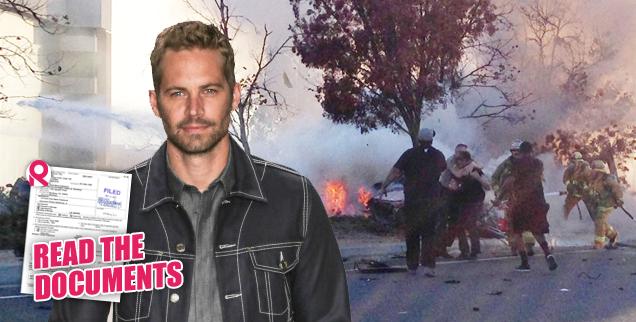 The graphic injury details for Paul Walker and driver of the car that crashed into a tree and a pole, Roger Rodas, have been released through the coroner's office and RadarOnline.com has all the details.
As RadarOnline.com exclusively reported, coroners confirmed the red Porsche Carrera was traveling "at an unsafe speed, approximately 100+ mph" and for "unknown reasons, the driver lost control of his vehicle, and the vehicle partially spun around," and when the car hit a tree the passenger side "burst into flames."
Article continues below advertisement
DOCUMENTS: Paul Walker & Roger Rodas' Horrific Injuries Detailed In Report
"The decedent was located lying supine in the passenger seat. The top of his head facing west. His right arm was bent at the elbow with his right hand in the air, parallel with the central portion of his torso. His left arm was bent at the elbow with his left hand on the ground, just above the other decedent's head," the coroner's narrative reads of Walker.
"Both of his legs were bent at the knees with both of his feet resting on the passenger floorboard. The decedent was charred and in a pugilistic stance. His right wrist was fractured and his left arm was fractured."
As confirmed in photos of the horrific car crash, "the vehicle was totaled with major traffic collision damage all around, and it appeared that the vehicle was almost split in half."
According to the autopsy report, Walker, 40, had numerous thermal and traumatic injuries including:
Article continues below advertisement
Diffuse charring of the skin with sparing of the back, buttocks, and feet.
Fractures of the right distal radius and ulna, likely heat related.
Epidural clotting, right-sided.
Scant soot present within the trachea.
Left mandible fracture.
Left clavicle fracture.
Left humerus fracture.
Multiple rib fractures.
Multiple pelvic fractures.
Nondisplaced spinal fracture at the level of T6.
Rodas, 38, had no drugs or alcohol in his system at the time of the crash and his toxicology report came up clean.
Rodas also suffered multiple thermal and traumatic injuries, including a fractured skull, fractured jaw, fractured ribs, lung lacerations and contusions, pelvic fractures and charring of his entire body.
"There are no charges pending and there are no signs of foul play," the examination concludes.
Walker and Rodas were killed on Nov. 30 in Santa Clarita, Calif. after attending a charity event for their Reach Out Worldwide organization and taking the Porsche for a joyride, that ultimately ended in a fatal fiery crash.
Walker was in mid-production on Fast & Furious 7 when he tragically passed away, and according to The Hollywood Reporter, Universal will move forward with the movie and his character Brian O'Connor will not be killed off but instead "retired" in a tasteful manner.