Oscar Pistorius Murder Trial: Ex Says Temperamental Olympian Always Stayed Armed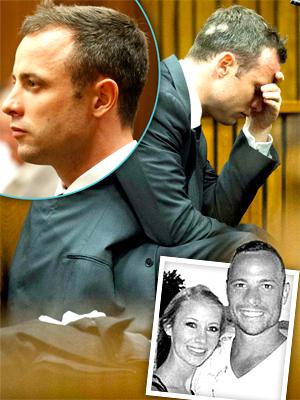 In the fifth day of the Oscar Pistorius murder trial in South Africa's Pretoria Magistrate's Court, Samantha Taylor, an ex-girlfriend of the accused murderer emotionally detailed the double-amputee Olympian's short fuse and penchant for firearms.
The 20-year-old Taylor said Pistorius, who's charged with premeditated murder of his late girlfriend Reeva Steenkamp's death, carried a gun with him "all the time."
Article continues below advertisement
She said on one occasion, an aggravated Pistorius "took out his gun and shot through the roof" following a fight with a policeman who'd pulled him over for speeding.
She said Pistorius and his friend Darren Fresco "were irritated and they said they wanted to shoot a robot" in the wake of the incident, which Pistorius attorney Barry Roux claimed had not happened. Taylor said that in another instance, Pistorius was followed home one night by a man, and responded by pulling out his gun and holding it to the man's window.
In crucial testimony to the case, Taylor said Pistorius routinely woke up during the evening paranoid there was a break-in in his home, and kept his gun next to the bed on a table -- and not under the bed like he claims was the case in the Steenkamp shooting.
The South African Times Live reported that Taylor, who dated the runner three years ago when she was 17, said Pistorius was unfaithful to her on two occasions, one time with Steenkamp.
Article continues below advertisement
Also testifying on Friday, security guard Pieter Baba, who was watching over the gated complex Pistorius' house was in on the night of the shooting, said he called the athlete after receiving reports of shots fired, and Pistorius told him, "Everything is fine."
Pistorius later called back, Baba testified, and was weeping; the suspicious guard added that he told a colleague that "not everything was in order as Mr. Pistorius was telling me."
Watch the video on RadarOnline.com
As we previously reported, as the 27-year-old athlete, nicknamed the "Blade Runner" is accused of premeditated murder in the 29-year-old model's death, as prosecutors said he shot to kill, as she hid in a bathroom following a loud Valentine's Day argument last year.
Should Pistorius convicted of premeditated murder, he could be sentenced up to life, with a 25-year minimum sentence. If convicted of murder, he could face up to 15 years behind bars.