'He Shot Her – That's It!' Former Lead Investigator In Oscar Pistorius Alleged Murder Case Speaks Out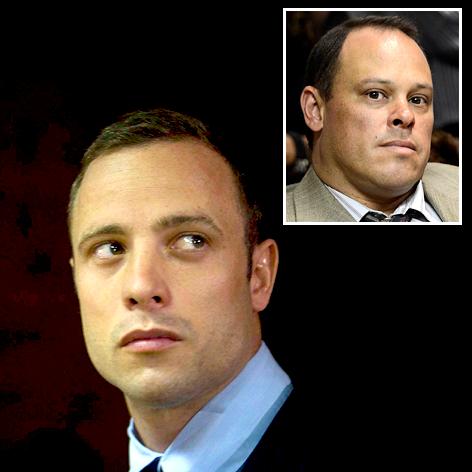 As shamed Olympian Oscar Pistorius awaits his trial for the alleged murder of his girlfriend, the lead investigator is voicing his stead-fast belief that he intentionally killed her, calling it "an open-and-closed case."
"There is no way anything else could have happened," revealed Hilton Botha in an eye-opening expose in the June issue of Vanity Fair magazine. "The only place there could have been entrance was the open bathroom window, and we did everything we could to see if anyone went through it, and it was impossible. So I thought it was an open-and-closed case.
Article continues below advertisement
"He shot her? That's it."
As RadarOnline.com previously reported, the Paralympic gold medalist with prosthetic limbs claims that he accidentally shot and killed girlfriend Reeva Steenkamp on Valentine's Day after mistaking her for an intruder in his home.
The South African detective, who was familiar with Pistorius from a previous arrest on assault charges, is still shocked that he was removed from the from the case and replaced by a more senior detective.
"They thought I'm not going to testify, and if I don't testify, then everything that happened on the scene would be hearsay," Botha told Vanity Fair contributing editor Mark Seal. "They are going to subpoena me, and I'm going to testify."
Botha was dismissed from the case after being charged with attempted murder in connection to a police-related shooting two years ago, reported ABCNews.com. Botha has not yet entered a plea in that case.
Article continues below advertisement
"It was just them in the house and according to the security registers she had been staying there for two to three days. So, he had to be used to her by that time? There was no forced entry," the bemused investigator told Vanity Fair.
Botha went on to describe the devastating scene that he found when he arrived at Oscar's opulent Pretoria area home. The national hero was crying, while wearing his prosthetic legs, along with a shirt and shorts that were covered with the deceased model's blood.
The 26-year-old Blade Runner's bail restrictions were eased in March and he is now allowed to leave his home country for running events. "I find no reason why Pistorius should be forbidden from leaving if he's invited to compete in athletic events in other countries," Judge Bert Bam told the court, in explanation of his controversial ruling.
Pistorius is scheduled to next appear in court on June 4 to face charges of premeditated murder.