Accused Killer Oscar Pistorius And Reeva Steenkamp Were Fighting Before Her Death, Mom Claims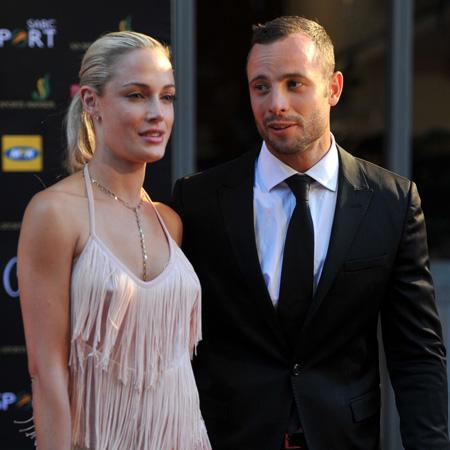 Oscar Pistorius and Reeva Steenkamp were fighting in the weeks up to her brutal shooting death her mother revealed in an explosive new interview.
The South African Blade Runner, 26, has been charged with the premeditated murder of his girlfriend, 29. She was shot four times and he claims he thought it was an intruder and didn't realize he was shooting Reeva.
Her mother June Steenkamp appears in a UK Channel 5 Documentary talking about her daughter's tumultuous relationship with Oscar.
Article continues below advertisement
She said Reeva called her from the car when Oscar was driving over the speed limit just a few weeks before her death.
"She was afraid, she was so afraid," June said.
"She phoned me and she said, 'Mummy I'm in the car with Oscar and he's driving like a lunatic'. So I said will you just give him the phone.
"She gave the phone to Oscar straight away and I said hello. And he said 'Mrs Steenkamp.'
"I said, listen, if you hurt my baby in any way I will have you wiped out. I didn't mean murder him, I'm just saying, that's what I said. And I know the friend that was in the car was a friend of Reeva and a friend of Oscar and he told me afterwards that Oscar slowed down immediately," according to the Daily Mail.
Reeva's mother said that wasn't the only time her daughter said there was trouble in the relationship.
"A week or so later she phoned me, we chatted about this and that, little girl things. I said 'how's it going with Oscar?' She said that 'We've been fighting; we've been fighting a lot.
"She didn't elaborate about what they'd been fighting about. She said, 'We are fighting a lot.' That's what she said.
Article continues below advertisement
However, she said that she wasn't as worried as she should have been for her daughter.
radar_embed service=brightcove src="http://c.brightcove.com/services/viewer/federated_f8/1418452869" width="486" height="412" fv="videoId=2429407380001&linkBaseURL=http%3A%2F%2Fwww.dailymail.co.uk%2Fnews%2Farticle-2335016%2FReeva-Steenkamps-mother-reveals-model-scared-Pistorius-pair-fighting-lot.html&playerId=1418452869&viewerSecureGatewayURL=https://console.brightcove.com/services/amfgateway&servicesURL=http://services.brightcove.com/services&cdnURL=http://admin.brightcove.com&domain=embed&autoStart=false&"
MORE ON:
Celebrity Justice
"I didn't feel alarmed about that because men and women do fight don't they, it's part of a relationship but this is a very early relationship to be fighting."
One of Reeva's friends also said that they know about a fight Reeva and Oscar had where she took two days to "cool off."
Gwyn Guscott recalled their conversation: "I know of one argument that she had with Oscar. I don't know who started the argument but I do recall her saying to me that, 'Gwyn, you know how I am, I'm not a person that likes arguments so I walk away. So I left and I took two days to cool off and just think about what had happened and then I tried to patch things up.'"
Article continues below advertisement
Her mother said she wants answers from Oscar about the night her daughter died.
"Why? Why did he shoot her? I want to know why he shot her. Because she must have been so afraid in the toilet, and somebody's firing a gun, bullets through the door.
"And how terrified and already one bullet had hit her so she must have been in severe pain also, and I just feel why couldn't I have warned her, or known something about this person - that they could be capable of doing something like that.
"Because he shot her till she was dead. Shot her till she was dead and I want to know what happened. Why?
Pistorius is out on bail after a judge released him and his is allowed to travel outside of South Africa with clearance from the court. He is slated to stand trial later this year.