Outrage! Blade Runner Oscar Pistorius Posts Valentine's Tribute To Slain Girlfriend Days Before Going On Trial For Her Murder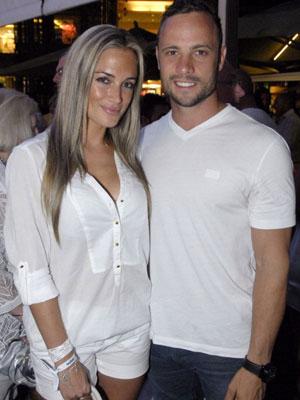 It's the kind of anniversary no couple should ever have: One year ago today, Oscar Pistorius fatally shot his girlfriend Reeva Steenkamp. Now, with his trial for her alleged murder set to start on March 3 in South Africa, the former Olympian has posted a perhaps ill-timed tribute to his dead flame, insisting that it was an "accident."
"No words can adequately capture my feelings about the devastating accident that has caused such heartache for everyone who truly loved and continues to love Reeva," he wrote on his website.
Article continues below advertisement
"The pain and sadness -- especially for Reeva's parents, family and friends, consumes me with sorrow," Pistorius continued. "The loss of Reeva and the complete trauma of that day, I will carry with me for the rest of my life."
According to prosecutors, Pistorius unleashed a spray of bullets through a closed bathroom door -- behind which crouched Steenkamp -- in the early morning of February 14, 2013, following an argument. She was later found dead on the bathroom floor, riddled with bullets.
Pistorius continues to insist that he shot her through the closed door because he believed she was an intruder.
On Twitter, some found his one-year tribute to be in bad taste. "Two face!!" @CarismaHarmzen wrote. "He's just looking for sympathy. He needs to be in jail!"
User @queenelisabeth wrote, "Maybe he shouldn't have shot her. #justathought"
And @jstutsport chimed in, "Only thing devastating for him is that he is going to jail."
Article continues below advertisement
The blonde model's parents have claimed that Pistorius had put their daughter's life in danger before. When Steenkamp called her parents once during a terrifying high-speed drive with Pistorius behind the wheel, her mother, June has said, "I told her to give the phone to Oscar. That was the one and only time I ever spoke to him. I warned that if he hurt my baby in any way, I would wipe him out. I know that sounds aggressive, but I was desperate to keep Reeva safe. I couldn't bear to think her life was in danger at his hands."
According to reports, June will attend his trial next month.