Exclusive
What Has She Done To Her Face? Top Docs Analyze Just How Much Work Kim Kardashian Has Had Done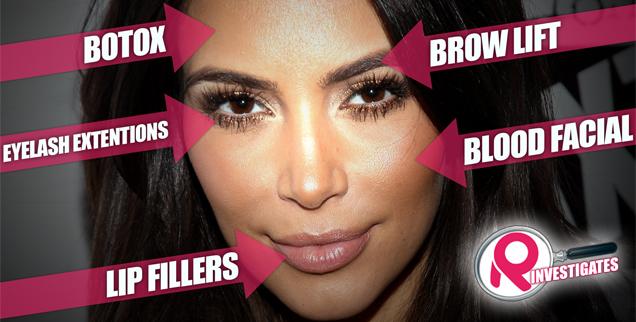 Article continues below advertisement
"It appears to me Kim's had quite a bit of work done -- some she's admitted to, and some we can speculate about."
Indeed, she copped to having Botox done as far back as 2010and Dr. Youn -- who has not treated Kardashian -- says that the results are obvious.
"I believe she's undergone Botox injections to smooth the wrinkles of her forehead and her frown lines," Dr. Youn said. "Although I doubt she's had a surgical brow lift, she looks like she's had a Botox brow lift, where Botox is injected in a pattern to raise and arch the brows."
In addition, Dr. Youn declared, "I do believe she may have gone under the knife for a nose job, thinning out and straightening her nose, making it look more glamorous."
Further down, he said, "Her lips appear to have been plumped with fillers, although she doesn't sport the 'trout pout' of some other reality stars."
In addition, licensed aesthetician and beauty expert Alicia Hunter told RadarOnline.com that Kardashian has gone to great lengths to keep her lashes looking lush.
Article continues below advertisement
"Kim has luscious traffic-stopping lashes whether she's grocery shopping or walking the red carpet," Hunter, the author of The Accidental Diet: From Fugly to Fab, explained.
"That said, they're extensions! Kim favors individual silk and lash extensions done in a most dramatic length and thickness."
And as if that weren't enough, Hunter said: "She piles a strip and an additional half-strip on her outer corners for special occasions -- even if that occasion is just a night in with the family!"
Providing the foundation for all of that work is her picture-perfect skin, but that doesn't come cheap either: Kardashian has admitted to getting $1,500 "vampire facials" to keep herself looking eternally young!
Hollywood Plastic Surgeons Tell All: 42 Stars Who've Had Lipo, Face Lifts & Tummy Tucks
Last spring, she posted a pic of herself undergoing the bloody procedure, which involves drawing blood from a patient's arm with a needle, separating the plasma, and then combining that with Restylane or Juvederm to be injected into the face.
All told, it's a high price to pay for a pretty face. Do you think it's worth it? Or do you prefer the old, more natural Kim? Let us know in the comments!