Exclusive
Red Carpet Secret Weapon: Fake Eyelashes By Makeup Mandy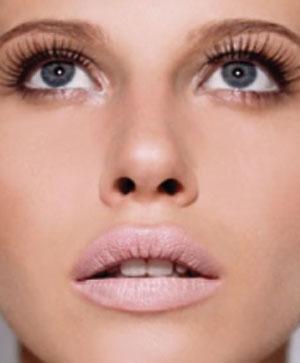 If eyes are the windows to the soul, then great lashes can transform that view from broken-down shutters to beautiful bay windows.
While makeup trends come and go with each catwalk season, one way to keep your look pulled together and remarkable is by putting on some fake lashes. Yes, yes, fake lashes can conjure images of overly-tanned retirees and glitter-covered porn stars but if you get the right kind, you'll turn heads effortlessly.
Article continues below advertisement
Get The Look: Emily Blunt's 1920's Inspired Emmy Hair
In Los Angeles, celebrities like Avril Lavigne and Karina Smirnoff have made Makeup Mandy a go-to for both everyday and red carpet make-overs. Billed as both an eyelash bar and makeup studio, it is one place you can get tanned and glammed thanks to an on-site tanning room, stocked makeup counter (including airbrushing), waxing station, and resident eyelash queen (and the store's owner) Amanda Jacobellis.
Beauty Question: Can You Wear Red Lipstick ?
While there are different ranges of eyeleash types (from "Party Lashes" that last for a night or one week to the normal extensions which last for 4-6 weeks), the thing that sets Makeup Mandy apart from other similar operations in town is Jacobellis' unique expertise in the field.
When RadarOnline.com paid a visit to the store, Jacobellis' knowledge of the ins and outs of eyelash health alone was impressive (and comforting for a first-time lash extensionee!). She created The LAshX Method which includes the LAshX by Makeup Mandy™ Lash Clean. Long after the extenstions came out, the cleanser was a terrific way to quickly (and gently) clean off eye makeup including stubborn mascara. It's quite a find with or without lash extensions! Pick up some here.
Article continues below advertisement
Smell Delicious AND Reduce Your Carbon Footprint
If you are feeling J-Lo fabulous, you can get a set of Mink Lashes (which range from $125 - $500 depending on how lash-tactic you want to get), or if you want to go the Katy Perry route, try their "Candy Lashes" which are colored glitter lashes.
Though you would normally think va-va-voom lashes would seem out of place in the harsh glare of daylight, when pared with simple blush and lip gloss, you can skip the eye makeup and still look bright-eyed and fancy free!
If you are in Los Angeles, head over to this beauty hot spot ASAP to get your glam on!