Kim Kardashian Gets 'Vampire Facial' … Using Her Own Blood?!?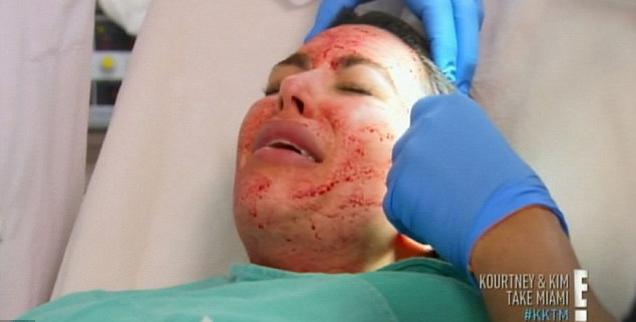 Kim Kardashian was on the receiving end of a facial -- using her own blood -- on Sunday's Kourtney and Kim Take Miami, and we've got all the details for you right here on RadarOnline.com.
"I love trying anything that makes you look and feel youthful," the socialite said prior to the procedure, which was performed at the Miami Institute For Age Management. The idea behind it is to rejuvenate the flesh using processed blood that is drawn from the patient and injected back into their face.
Article continues below advertisement
Of course, the old adage "Pain is beauty" rang true, as Kanye West's baby mama-to-be complained throughout the procedure, even after her face was covered in a numbing agent.
"Oh my God," the 32-year-old reality star said. "I will never get a facelift if it feels like that!"
Her friend, Jonathan Cheban, who initially suggested the treatment, accompanied her to the appointment and watched on in horror throughout.
As RadarOnline.com previously reported, while Kim has acknowledged past experience with Botox, she denies having any other sort of plastic surgery performed on her person.
Botox is "the only thing that I've done," she told ABC in 2010. "What's funny about my nose, it's my biggest insecurity: I always want to get my nose done. I went to the doctor, I had them take the pictures, he showed me what it would look like and it just didn't … I wouldn't look the same."