Exclusive
Mystery Of The 'Dramatic' Change In Kim Kardashian's Face: She Insists She's NEVER Had A Nose Job... Despite The Photo Evidence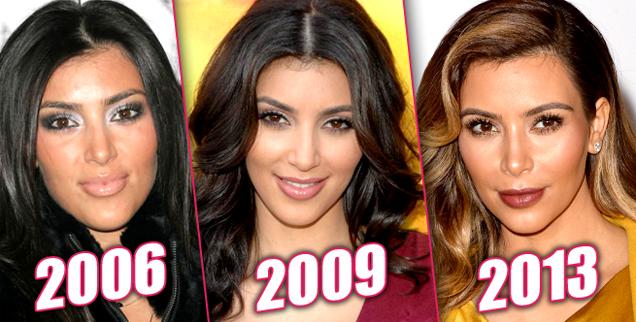 Article continues below advertisement
"Yes she appears to have had a nose job in my opinion," Dr. Anthony Youn, a prestigious plastic surgeon and founder of Youn Plastic Surgery, told RadarOnline.com after looking through photos of Kim over the years.
"Kim appears to have had her nose thinned and the bump removed. Her nose looks more glamorous and elegant than it used to, contributing to her Hollywood good looks."
And Youn, who has never treated Kim, gives the thumbs up the surgeon who allegedly worked on her nose.
"Kudos to her plastic surgeon for what appears to be a job well done," he said.
But three years ago Kim denied ever going under the knife, telling ABC's Nightline in 2010 that she'd never had a nose job.
"I'm totally not against plastic surgery, I've tried Botox before. That's the only thing that I've done," she said.
"I've never had my nose done."
Even more, the reality TV star claimed her nose is her "biggest insecurity" but said she decided against rhinoplasty because "I wouldn't look the same."
You be the judge — does Kim's nose look different in 2013 than it did in 2006? Sound off in the comments below…