Justin Bieber Sex Tape Shocker: Troubled Pop Brat Purportedly Caught On Camera In Kinky Strip Club Orgy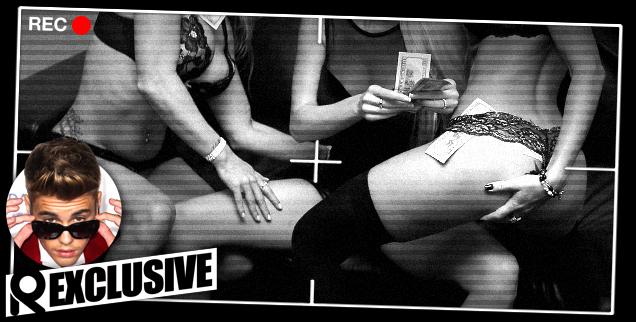 Justin Bieber is caught on camera "spanking" the bare backside of two strippers and "pulling off their panties with his teeth" in an shocking tape that could be made public, RadarOnline.com has exclusively learned.
The 19-year-old pop brat — facing criminal charges on both sides of the border — was recorded on surveillance video inside a strip club in the Australian state of Queensland during his tour of that country last year.
Article continues below advertisement
In a still image provided to RadarOnline.com, Bieber can be seen with his baseball cap on backwards, a security guard nearby and his two partners in crime, who are topless.
The rest of the 12-minute "crystal clear" video sees Bieber in compromising positions and romping "with two strippers during which he spanks their bum and pulls off their panties with his teeth," a source, who has watched the entire tape, revealed to Radar.
The video is being shopped to various media outlets.
The seller is demanding a fortune for the footage which was recorded in November, last year.
This development could not come at a worse time for the pint-sized pot head: If the naughty flick was to be published, Bieber's teen icon image could be thrown into complete turmoil in the wake of his arrests in Miami and Toronto.
Bad boy Bieber's trip to Australia on the Believe world tour was mired in controversy when he was caught graffiting the wall of a five-star hotel on Queensland's Gold Coast.
Article continues below advertisement
Bieber was also reportedly being seen going into a brothel in Brazil recently.