Exclusive
Oh, Baby! Chelsea Clinton Debuts Suspicious Bump At Fashion Week Events -- Are Hillary & Bill Finally Getting A Grandchild?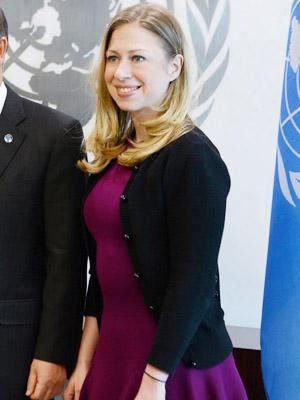 Last fall, Chelsea Clinton revealed that she and husband Marc Mezvinsky had decided they "were going to make 2014 the Year of the Baby." And just a few weeks into the new year, it seems she's making progress. After months of baby rumors, Clinton has debuted a suspicious bump at New York Fashion Week events, fueling new speculation that she could be giving mom Hillary and dad Bill a grandchild just in time for the 2016 presidential campaign.
Article continues below advertisement
Chelsea's purple skater dress strained across her midsection at a UN event she attended with a proudly beaming mom on February 4:
And at the AMFAR gala the next day, she wore a skirt with camouflaging pleats bunched around her midsection.
So is a baby on the way? Chelsea has said her parents "would tell you without blinking an eye that it would make them the happiest thing on earth if I were to make them grandparents."
According to Bill, a little Clinton is "something Hillary wants more than she wants to be president." As for the ex-Prez himself, he explains, "My goal is to live to be a grandfather."
Indeed, now could be the perfect time: According to a source, Chelsea has chosen not to renew her contract with NBC News in order to focus on her personal life.
"Chelsea chose not to renew her NBC News contract for several reasons," the source says. "She felt it opened her up to be questioned by the press about her parents and private life. She has always maintained a level of privacy, and being in the media spotlight diminishes that."
Article continues below advertisement
Also paving the way for baby is the fact that Chelsea and her husband Marc are happier than ever, after a temporary separation in 2011 threatened to end their relationship right out of the gate. (The couple has always maintained that those reports were false.)
But now, she says, they're on the same page.
"We sat down and said, 'Here's what we want to do,'" she told Glamour in October. "The first thing on the list was simple: We want, God willing, to start a family. So we decided we were going to make 2014 the Year of the Baby. And please, call my mother and tell her that. She asks us about it every single day."