Exclusive
Tom Sizemore's Shame As He Makes Groveling Apology To Ex-Lover Elizabeth Hurley Over 'Made-Up' Bill Clinton Affair Claim: 'They Were The Rantings Of A Drug Addicted Actor'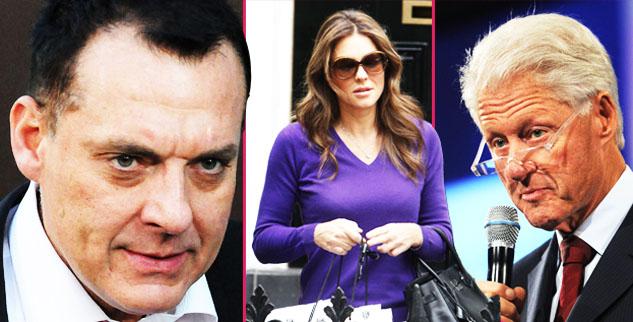 Troubled actor Tom Sizemore has reached a new low: In an embarrassing about-face, the drug-addicted Hollywood star now claims he made up the story of Elizabeth Hurley and Bill Clinton's love affair during a drug binge.
Unreservedly apologizing to his one-time supermodel lover, Sizemore told HuffPost Live on Wednesday night: "I'm not denying that I said these things… I don't remember saying them. They're the rantings of a guy and it's been well-chronicled, who had a very severe drug problem."
Article continues below advertisement
He added: "I'd like to apologize to her for any hurt or BS I called Liz or the Clintons or anybody else i may have mentioned… They were the rantings of a drug addicted actor."
In a shocking video recorded in January, Sizemore bragged about giving former President Clinton's number, which allegedly sparked a year-long affair. Sizemore revealed his own three-year fling with Hurley in his tell-all book, By Some Miracle I Made it Out of There, last year.
Now, the 52-year-old has backtracked.
"No, it's not true," he said in the interview on HuffPost Live. "I was never at the White House and I never met Bill Clinton. I went to a screening of Black Hawk Down but it wasn't in the White House. It was in a theater near the White House. But I've never been to the White House and met our president, any president."
But the The Saving Private Ryan star said the video was an "old tape" recorded "back before I went to Celebrity Rehab in 2010 and started to straighten out my life" — even though RadarOnline.com has verified that it was recorded earlier this year when he was staying in Connecticut.
Article continues below advertisement
Furthermore, though Sizemore claimed in the interview to have been sober for nearly five years, videos have emerged showing Sizemore smoking crystal meth just last month.
He said that he regularly taped himself.
Sizemore's manager, Charles Lago, insisted the star is drug tested every two weeks. Unfortunately, Sizemore's apparent vices, cocaine and methamphetamine, can be excreted by the body in less than 48 hours, as RadarOnline.com previously reported.
Watch the full interview, below.