Exclusive
Tom Sizemore Claims He's Clean Today - Despite Drug Video Showing Him Using Heroin & Crystal Meth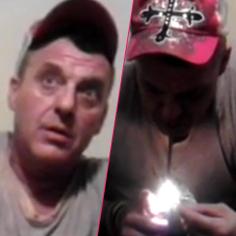 Confronted with a bombshell video showing him getting high on hardcore drugs and making offensive racial remarks, long troubled actor Tom Sizemore decided to take a drug test on Tuesday morning - and he claims to RadarOnline.com that he passed.
The 52-year-old star of "Saving Private Ryan" - who was supposedly clean since 2010 when he went on on "Celebrity Rehab With Dr Drew" - submitted to a urine test on the advice of pals.
Article continues below advertisement
"I called Tom this morning and told him we need to go and get a drug test right away, his attorney suggested it," his manager, Charles Lago, told RadarOnline.com.
"He took a supervised urine test in Dr. Paula Schoen's office and she told us that the initial test came back negative.
"The urine will now be sent to a lab and in four hours I will have the definitive results then. If it comes back doubtful they will send it back again and those results take three days."
But here's the problem for Sizemore: The video was shot in late 2013 and the urine test has a VERY small window of detection, meaning even if he passed a test today, it doesn't mean that he didn't do heroin and crystal methamphetamine late in 2013, as was reported.
Cocaine, methamphetamine, opiates and PCP are rapidly excreted from the body and usually undetectable in urine 48 to 72 hours after use. Chronic marijuana use may remain in the body longer.
Article continues below advertisement
Plus, video footage doesn't lie.
What's more, there's another issue for Sizemore - RadarOnline.com has learned of the existence of a SECOND video, shot within the last few weeks, showing Sizemore doing more illegal drugs.
In the original video obtained by the National ENQUIRER and provided to RadarOnline.com, Sizemore - who has battled addiction since he was 15 - takes a potshot at Mexican men, saying he hates them because they all "stink, they're hairy, they're brown" and smell like "f*cking fertilizer."
"They just f*cking try and tax you and f*cking beat your a* and kill ya," he said.
As for the vile video littered with racist attacks, Sizemore's rep said he and the actor were aware of its existence before it was published and claim they were subjected to a "shake down" attempt by a woman.
When the agent declined to pay the amount, he told RadarOnline.com that she ceased communication. There's no record of any criminal charges being pressed against the supposed woman.