Exclusive
Tom Sizemore's Heroin Hell: 'Saving Private Ryan' Star Caught On Video Using Heroin, Crystal Meth & Making Vile Racist Rant -- Watch It Here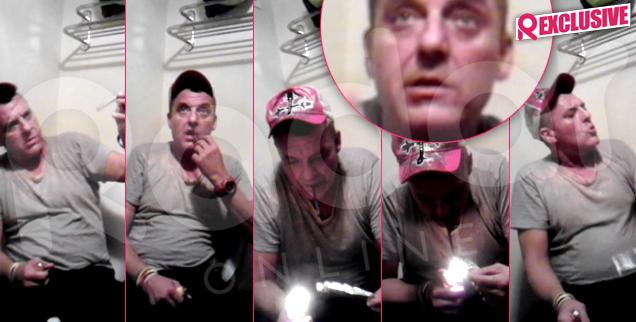 In a bombshell exclusive, RadarOnline.com has obtained a shocking video of long-troubled actor Tom Sizemore getting high on hardcore drugs and making offensive racial remarks.
The 23-minute video was secretly filmed by a pal in late 2013 and shows the 52-year-old father of two using both heroin and crystal meth in the bathroom of his Los Angeles home.
While high on the drugs, Sizemore – who has battled addiction since he was 15 – takes a potshot at Mexican men, saying he hates them because they all "stink, they're hairy, they're brown" and smell like "f*cking fertilizer."
Article continues below advertisement
"They just f*cking try and tax you and f*cking beat your a* and kill ya," he added.
Although he claims he got clean after a 2010 stint on "Celebrity Rehab with Dr. Drew," the video is proof that Sizemore "still hasn't licked his drug demons," said an eyewitness.
In the video, obtained by the National ENQUIRER and provided to Radar, Sizemore is seen sitting on the toilet, speaking to a friend.
"The bathroom is Tom's drug den," the eyewitness continued. "First, he used heroin, which was on his bathroom sink, wrapped in foil. He lights it with a cheap lighter placed under the foil and uses a straw to inhale the smoke.
"A couple minutes later, he's ready to use the crystal meth, which he smokes through a glass pipe.
"You can tell Tom is not well – he's sweating profusely in the video."
Warning: This video contains strong language and/or content that some readers may prefer to avoid.
Article continues below advertisement
radar_embed service=5min.com src="http://pshared.5min.com/Scripts/PlayerSeed.js?sid=1126&width=570&height=351&playList=518093368&sequential=1&shuffle=0"
This is a transcript of three-and-a-half minutes of the tape being published for the first time today.
SIZEMORE: We are camels. Don't tell nobody. We are real camels. They should be riding us. They know that. Shhhhh. Go away. Are we all in agreement? I hate them. I can't tell you how much I hate them. They stink, they're hairy, they're brown, they're like f*cking fertilizer. They just fcking try and tax you and fucking beat your a** and kill ya. No f*cking jive… Your money is gone.
SOURCE: Do you like Mexican girls?
SIZEMORE: I like girls. You know?
SOURCE: You're like Captain Kirk. The b*tch can be green.
SIZEMORE: I'd f*ck the dirt. My mother told my aunt once, my father's sister. Well the problem with your brother, my husband, if all else fails, he'll wet the ground and f*ck the dirt.
SOURCE: Puddle of mud. That's what they used to call chicks with loose p*ssy.
SIZEMORE: I was 12, so I went and tried it. I didn't like it at all. My d*ck got all dirty. My dad fcks dirt I can fck dirt too.
Article continues below advertisement
SOURCE: How did it feel?
SIZEMORE: It didn't feel good and he didn't f*ck dirt either. I didn't know what a metaphor was. It meant he was unfaithful.
SOURCE: You know how you can tell if a blonde has been using your computer? There are f*cking envelopes stuck in the hard drive.
SIZEMORE: I'm sitting here waiting for Deborah. My Brazilian b*tch. Waiting for her. Bring her back her. I don't know. We'll see… threesomes. She'll be into this. A five bedroom house, three stories and a pool. She's going to be into that. And this here. Do what you want. Just let me know what's up.
SOURCE: She's a pretty real chick. If she's into you she's into you. Cause you're like an actor. She was like f*cking. She didn't really care about coming over here.
SIZEMORE: I don't like the fact that people… I don't enjoy… I don't' like girls…I don't like being thought of as me. It's a drag. I hate it. I detest it.
Sizemore's substance abuse troubles are the stuff of Hollywood legend. He's been arrested and in and out of rehab several times over the past two decades.
Article continues below advertisement
In a recently published memoir, "By Some Miracle I Made It Out of There," Sizemore referred to himself as a "hope-to-die addict" who struggled with addiction throughout his teenage years.
Despite his drug problems, Sizemore became one of Hollywood's most sought-after supporting actors in the '90s and early 2000s, starring in "Saving Private Ryan," "True Romance," "Natural Born Killers," "Black Hawk Down" and "Heat."
He married actress Maeve Quinlan in 1996, but divorced three years later due to his drug use. And things went downhill from there.
In 2003, Sizemore was convicted of assault and battery on his then- girlfriend, former "Hollywood Madam" Heidi Fleiss.
In 2007, while on probation for a previous drug conviction, he was arrested in Bakersfield, Calif., for possession of meth and sentenced to 16 months in prison. Two years later, he was arrested again on an outstanding warrant for drug charges and later released.
Article continues below advertisement
Sizemore, who has twin 8-year-old boys, Jagger and Jaedon, with ex-girlfriend Janelle McIntire, appeared on the third season of VH1's "Celebrity Rehab."
The following season, he made a guest appearance on the show and stated that he'd been sober for 14 months.
While he has stayed busy with work, appearing in TV series such as "Hawaii Five-O" and in films including "Seal Team Eight" and "Paranormal Movie," Tom's personal life has clearly taken a turn for the worse.
"The world should see this video because maybe then Tom will realize he's killing himself with drugs and clean himself up for good," added the eyewitness. "My plea to Tom is, 'Get help now before you end up dead.'"