Exclusive
Tom Sizemore's Arrest Was 'A Misunderstanding,' Community Service Has Been Completed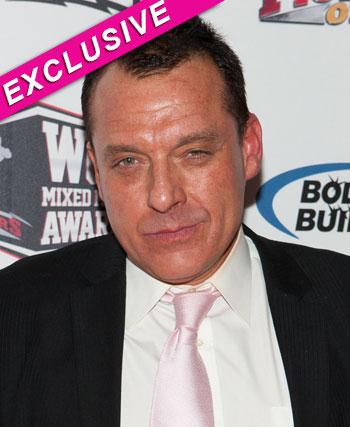 The police who arrested Tom Sizemore in the early hours of Tuesday morning were investigating his assistant, not the troubled actor, RadarOnline.com can exclusively reveal.
The Saving Private Ryan star's personal assistant was arrested earlier in the evening for allegedly stealing a car and the investigating officers knocked on Tom's door in the early hours of Tuesday morning because his assistant is currently living there for free, Sizemore's rep told RadarOnline.com in an exclusive interview.
Article continues below advertisement
"Tom was at his own house in Los Angeles - not someone else's apartment - the confusion came about because the assistant is living at his house but not paying rent," explained his spokesperson. "No drugs were found there and he wasn't doing anything wrong."
He went on to explain: "He was just at his house at 1.30 a.m. when the police appeared at his door asking for his assistant because he had been arrested. They searched his room and then ran a check on Tom and on the computer in the car and found an outstanding warrant for failure to comply to community service."
However, Sizemore has completed all his obligations but because of a clerical error, it still appeared outstanding.
"He has completed the community service over a year ago but his lawyer made a mistake and failed to send the letter to the court," said his rep.
A letter obtained from Hollenbeck Youth Center in Los Angeles by RadarOnline.com confirmed that the Black Hawk Down star has completed 80 hours of work for them.
Article continues below advertisement
EXCLUSIVE DOCUMENT: Read The Hollenbeck Youth Center Letter Confirming Community Service Has Been Fulfilled
As RadarOnline.com previously reported, Sizemore had just returned to Los Angeles from Hawaii, where he had been filming several episodes for the second season of the hit CBS drama Hawaii Five-O.
The actor is now out of jail and preparing for a business trip to Minneapolis and Buffalo for film festivals to promote his upcoming film, White Knight.