Exclusive
Tom Sizemore's Drug Shame: 'Saving Private Ryan' Star Caught On Camera In SECOND Video — Shot This Month — Smoking Crystal Methamphetamine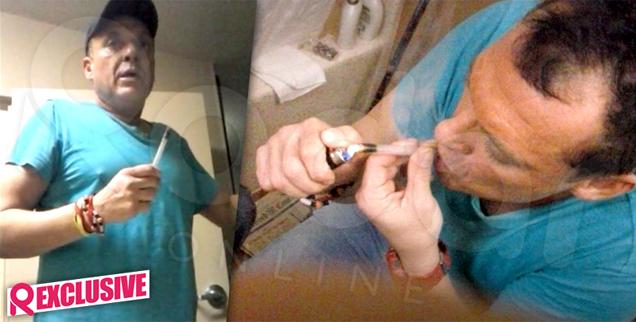 Troubled actor Tom Sizemore insisted on Tuesday that he was long sober, but he might have some explaining to do after this.
In a SECOND video to have been recorded in as many months, the long-troubled Saving Private Ryan star is caught on camera — again — smoking crystal methamphetamine in booze and drugs binge, a source revealed exclusively to RadarOnline.com.
It was recorded in early January when Sizemore was in Connecticut, filming his latest movie.
Article continues below advertisement
The friend who witnessed the 52-year-old Hollywood star inhale the dangerous drug in a Manchester, Conn., hotel room told RadarOnline.com: "He was parting hard. He's clearly fallen off the wagon. I arrived to the hotel around 10pm. He was still partying when I left around 4am the next morning."
"I walked into a complete mess," the eyewitness explained.
"I could not believe it. When I showed up, there was a woman in the room. She was a mess and telling everyone she needed money for drugs and needed needles. It was uncomfortable. Tom eventually kicked her out of the room."
The 50-second video shows a haggard looking Sizemore clutching the drug as he lights it multiple times and inhales on three occasions.
Sizemore doesn't seem fazed at being filmed in his drug den alongside a group of pals as he recounted — high as a kite — stories of his drug-addled life and family.
"He was very goofy and loud," said the source. "He couldn't shut the hell up and had story after story."
Article continues below advertisement
Warning: This video contains strong language and/or content that some readers may prefer to avoid.
radar_embed service=5min.com src="http://pshared.5min.com/Scripts/PlayerSeed.js?sid=1126&width=570&height=351&playList=518094921&sequential=1&shuffle=0"
Sizemore's latest turn in his downward spiral comes after he published his memoir By Some Miracle I Made It Out Of There last year, in which he chronicled his battle with drugs and multiple attempts to sober up.
Famously greased by addiction, the star — who tried to clean up on Celebrity Rehab with Dr. Drew — detailed his vices of cocaine, heroin and meth in the tell-all.
And unashamedly, according to the source, Sizemore boasted to the group how he was able to fool the world — on multiple occasions.
"He told the group that night that he wasn't suppose to be doing any drugs while shooting this film," the source said.
Article continues below advertisement
"I believe it was part of the deal he had set up… But somewhere along the lines, he told us he wasn't supposed to be doing drugs -- all while he was smoking meth in front of us. He went on to say he fooled everyone on Celebrity Rehab and bragged about faking all his drugs tests by using synthetic urine."
When RadarOnline.com published the first bombshell video of Sizemore on Tuesday, shot in late 2013, the actor decided to take a drug test – and the results confirmed his sobriety as of Jan. 21. Read the results in the document below.
EXCLUSIVE DOCUMENT: Tom Sizemore Passes Jan. 22 Drug Test — Read The Results
However, as we previously reported, the test has a VERY small window of detection, meaning even though he passed, it did not mean that he didn't do heroin and crystal methamphetamine late in 2013 or at the start of January.
Cocaine, methamphetamine, opiates and PCP are rapidly excreted from the body and usually undetectable in urine 48 to 72 hours after use. Chronic marijuana use may remain in the body longer.
The source – who said he had been at multiple parties recently with Sizemore – came forward in a bid to expose his behavior because it had alarmed those close to him, he said.
"Once you fall into that lifestyle, it's hard to get out of it," the source told RadarOnline.com.
"Tom is going to be back in trouble and back in prison. It's going to be much worse than the last time. He is throwing anyway everything he has worked for with his comeback."