Exclusive
Brooke Mueller In Denial – Needs To Hit 'Rock Bottom' Says Friend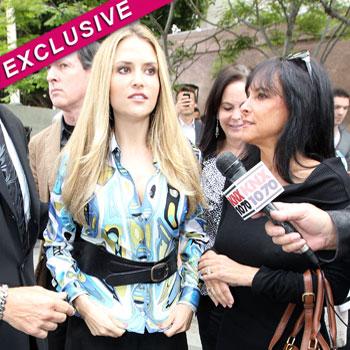 Brooke Mueller was all smiles earlier this week when a Los Angeles judge denied Charlie Sheen's request for full custody of the estranged couple's twin sons.
However, friends of Mueller's are concerned the decision will be detrimental to the struggling addict's stab at sobriety and that she may have had a better chance at recovery if she had actually had the boys taken away.
Article continues below advertisement
Charlie Sheen Loses Custody Battle For Twins
"We are fearful that Brooke will never truly get sober until she hits rock bottom," a close friend of Brooke's tells RadarOnline. "She has never been allowed to though, she always gets a lucky break and she hasn't learned that there can be serious consequences to her actions.
"Brooke knew that if she used drugs she could lose custody of the boys. But, what happened? She used drugs, and didn't lose the kids - so she got away with it.
Article continues below advertisement
But, the source says that the only reason she went back to treatment was because the media found out she was using drugs again.
In addition, Brooke has been advised that she needs to be enrolled in a fulltime rehab program, NOT day treatment. It has also been recommended that Brooke stay as an in-patient for at least 90 days.
Charlie Sheen Seeks Custody As Twins' Mom Goes Back Into Rehab
Brooke won't do it though, for several reasons.
"She doesn't think she needs that length of time in treatment, and that if she were to do it, she would lose custody of the boys to Charlie," the source says. "Brooke's main source of income is her child support payments from Charlie, and she is doing everything possible to make sure they don't stop.
EXCLUSIVE: Charlie Sheen Headed Back To Court After Ex Refuses Drug Test
"Brooke has a very, very serious addiction to crack cocaine and needs proper, intensive treatment. She doesn't recognize that using crack could kill her. She is in total denial about her addiction, period."
Article continues below advertisement
Meanwhile, her soon-to-be ex is "very, very frustrated that he has been taking drug tests, routinely, when asked, and passing them. Charlie is certainly no saint, but he has done everything that has been asked of him, and yet Brooke still has primary custody," the source says.
Back On Crack! Charlie Sheen's Soon-To-Be Ex Partying Up A Storm
"Once the tour is over, Charlie is going assess the situation and see if he can make another move at gaining custody.
"He truly believes it's only a matter of time until Brooke relapses again and uses drugs. Charlie hopes that when that happens, the judge will see things differently this time."
RELATED STORIES:
Brooke Mueller's Day From Hell