Exclusive
Back On Crack! Charlie Sheen's Soon-To-Be Ex Partying Up A Storm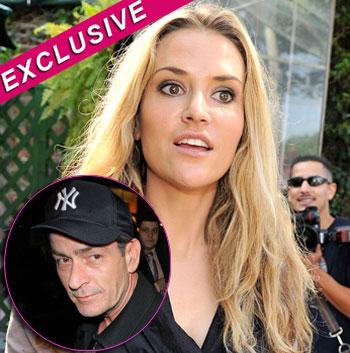 Brooke Mueller, Charlie Sheen's soon-to-be-ex-wife, allegedly bought cocaine at a street corner in gang-infested neighborhood of Inglewood, Calif., Thursday, several sources told RadarOnline.com.
The troubled mother of Sheen's 2-year-old twins paid $150 for an 8-ball of crack cocaine, a neighborhood drug dealer told ROL.
Moments earlier, she tried to hock an expensive watch in a pawnshop, Inglewood Jewelry and Loan, across Market Street.
Article continues below advertisement
"Man, I ain't never seen some sh*t like that, a cute a** white b**** looking for some candy on these streets," said a man who identified himself as T-Mac.
He recognized Mueller on a photo that didn't identify her by name. He seemed to have no clue about her relationship with the former Two and a Half Men star.
"I was posted up across the street from the pawn shop and, when she got into her Benz, she asked me if I knew where she could get a bump," T-Mac added. "At first, I thought she was po-po, you feel me, but she told me she just wanted to get high. So I went for it.
"We got in her ride, bent a corner, and I hooked her a** up with 8-ball for a buck fifty and told her if she liked it, to come see me again."
Mueller indeed drives a black Mercedes S-Class, which she was given as part of a pre-divorce settlement.
Friend's of the oft-rehabbed Florida native Mueller's believe she is on a world-class bender since Tuesday night.
"Brooke is having a full-fledged crack relapse," said a source close to Mueller. "Her lawyer has been trying to reach her, to no avail. Brooke has 3-4 friends that are big-time party animals, and they came over to her Los Feliz mansion, picked her up, and she hasn't been seen since."
Article continues below advertisement