Exclusive
Brooke Mueller 'Pee-Gate' Fallout: Charlie Sheen Could Seek Twins' Full Custody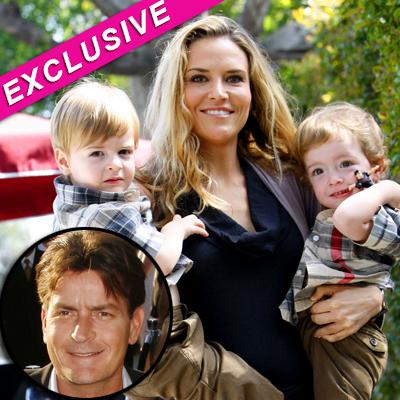 If Brooke Mueller tests positive for drugs, or does not report for her mandatory random drug test Thursday morning, Charlie Sheen will seek custody of their 2-year-old twin sons, Bob and Max.
A legal source close to Sheen tells RadarOnline.com: "Charlie will absolutely ask the court to take immediate action if Brooke fails the test, or refuses to do the drug test.
"A refusal is considered a dirty test under terms of the custody agreement. It'd be up to the judge to determine, what action if any would be taken. It will take approximately 24-to-48 hours for the results for Brooke's drug test, if she did go to the testing facility and provide one."
Article continues below advertisement
RadarOnline.com Thursday morning broke a bombshell story about Mueller making frantic calls to friends to ask for their clean urine.
The Sheen source added that, even though Brooke was asking friends for clean samples, it wouldn't do her any good. A witness watches the "collecting" of fluids.
"When either Charlie or Brooke provide the samples, an independent witness watches. This is someone that the testing facility designates, and Brooke doesn't know who that person is."