Exclusive
EXCLUSIVE: Chuck Lorre's Latest Vanity Card: 'My Lawyer Ate My Vanity Card'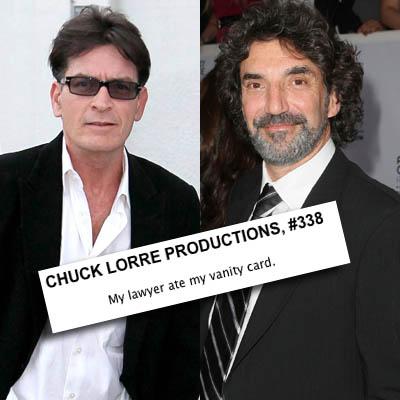 Are you on Team Charlie or Team Chuck?
No matter what you think about the Charlie Sheen Two and a Half Men fiasco, you've got to give show creator and co-executive producer Chuck Lorre his props -- he IS funny.
His latest vanity card -- flashed for a quick second at the end of his other hit CBS show, The Big Bang Theory, on Thursday night -- featured this short, but sweet little gem: "My lawyer ate my vanity card."
Article continues below advertisement
Ha.
We can't help but wonder what the uber-successful TV titan wanted to say, especially in the wake of Sheen's string of bizarre cross-country appearances as part of his live 'My Violent Torpedo of Truth/Defeat Is Not an Option' tour.
Sheen is currently in New York, where he will perform two sell-out gigs at the famed Radio City Music Hall.
Lorre's vanity cards have been his trademark of sorts; In addition to 'Men' and The Big Bang Theory, he also closes his other hit CBS show, Mike and Molly, with a lickey-split graphic that contains his personal rants and ramblings. Perhaps, his most famous -- or infamous one -- came early in the Sheen scandal when he posted after the February 14 broadcast of Two and a Half Men: "I exercise regularly. I eat moderate amounts of healthy food. I make sure to get plenty of rest. I see my doctor once a year and my dentist twice a year. I floss every night. I've had chest x-rays, cardio stress tests, EKG's and colonoscopies. I see a psychologist and have a variety of hobbies to reduce stress. I don't drink. I don't smoke. I don't do drugs. I don't have crazy, reckless sex with strangers.