Charlie Sheen On Stage, Calls His First Audience 'Warlock States of Sheen' - Show Bombs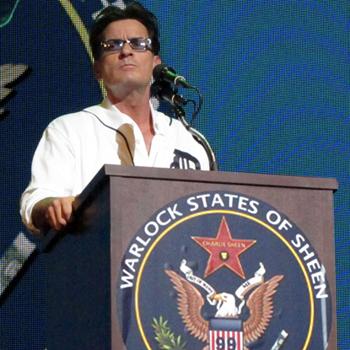 With all 4700 seats filled with fans and the just plain curious, Charlie Sheen took to the stage at Detroit's Fox Theatre, to thundering applause.
But it didn't take long for the crowd to turn against their former hero, and boo him loudly.
Saturday was opening night for the former Two and a Half Men star's My Violent Torpedo of Truth/Defeat Is Not an Option tour, and RadarOnline.com has all the latest details.
Article continues below advertisement
Sheen's former porn star pal Kacey Jordan was reportedly in the audience. His new pal Snoop Dogg wasn't.
Business was profitable and brisk in the lobby before the show. Programs went for a whopping $20 and T-shirts for $30.
The circus - we mean show -- started at 8:10 pm EST, only 10 minutes late. But the hapless warm-up comic who was the opening act, could barely be heard over the crowd screaming for "Charlie."
The booing got so bad, Sheen himself came out and asked the audience to give his pal a chance to show his stuff.
The audience was in no mood and went back to booing as soon as Sheen exited stage left. By 8:30, the painfully-bad opening act was put out of his misery, and the house lights went back on as if the show had never started!
Almost an hour in, and a series of totally random film clips are shown on giant monitors.
Article continues below advertisement
It was after 9 pm before Charlie actually started the show, anointing his audience at the "Warlock States of Sheen."
But this crowd wasn't in the palm of Sheen's hands, and they sometimes booed him!
Sheen was unmoved. "I already got your money!" he said snidely.
Definitely not winning!
There was more booing, followed by disjointed videos and Charlie asking the audience what stories they wanted to hear.