PHOTOS & VIDEO: Charlie Sheen Arrives To Court With One Of His 'Goddesses'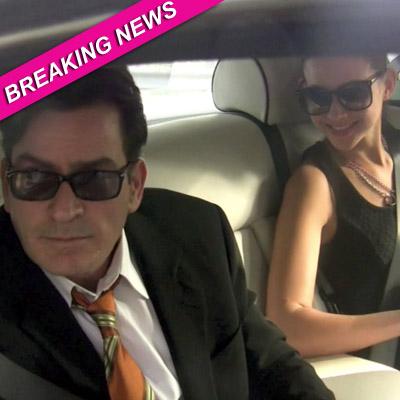 By Jen Heger
Radar Legal Editor
Armed with the results of another clean drug test, fired Two and a Half Men star Charlie Sheen arrived to Los Angeles Superior Court Tuesday morning, along with one of his 'Goddesses', Natalie Kenley, to gain custody of his twin toddler sons, two-year-old Max and Bob, from soon-to-be-ex wife Brooke Mueller.
During the hearing, reporters were bounced from the courtroom. Judge Hank Goldberg said the courtroom was being closed because of "allegations of abuse are involved," and that the children could be
Article continues below advertisement
exposed.
As Mueller refused to take a court-mandated drug test on Friday, Sheen passed his with flying colors, according to sources. Sheen passed a similar test administered by RadarOnline in late February.
Both Sheen and Mueller, who share a history of drug and alcohol abuse, agreed to be tested randomly three times a month to continue sharing custody of the kids.
But while Sheen allegedly remained clean, Mueller relapsed -- a story first reported by RadarOnline.
"Charlie hasn't been drinking or doing drugs," said a RadarOnline informant. "If the judge were to ask Charlie to take a urine drug test on the spot, Charlie would. He has nothing to hide. Charlie is in full compliance with all orders of the custody agreement."
Brooke Mueller hit rock bottom last week and was spotted buying cocaine from a street dealer in crime-riddled Inglewood, Calif. She enrolled in another rehab program over the weekend. But now, she stands to lose the kids to Sheen. He wants to take them on the road with him as he continues to tour the country with his one-man show.
Article continues below advertisement
The custody hearing is expected to begin at 8:30 a.m. PT Tuesday, and the judge is expected to rule immediately.
RadarOnline's sources say that Sheen could testify. It's unclear whether Mueller will attend. The hearing is closed to the public because the case involves minor children.
Despite his detour to court, Sheen continues his 'My Violent Torpedo Of Truth/Defeat Is Not An Option' 20-city tour; he's scheduled to appear Tuesday night in Washington, D.C.