Exclusive
Hurley's Ex-Lover Caught On Bombshell Audio Recording Revealing Ex-Prez's White House Sex Romps Behind Wife Hillary's Back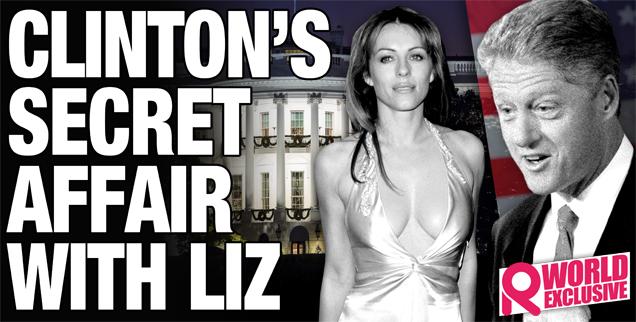 UPDATE 4:52 p.m. -- In an embarrassing about-face, the drug-addicted Hollywood star Tom Sizemore now claims he made up the story of Elizabeth Hurley and Bill Clinton's love affair during a drug binge.
Unreservedly apologizing to his one-time supermodel lover, Sizemore said on Wednesday night: "I'm not denying that I said these things… I don't remember saying them. They're the rantings of a guy and it's been well-chronicled, who had a very severe drug problem."
Article continues below advertisement
That's the explosive revelation dropped by the man who says he arranged the secret tryst, actor Tom Sizemore.
In a blockbuster exclusive, RadarOnline.com has unearthed a secret audio recording during which the Hollywood actor, who had his own three-year sexual liaison with Hurley, recounts how the famously-frisky ex-President once sent a plane to fly Hurley to Washington D.C., where he bedded her in the White House -- while First Lady Hillary was in the very next room!
Article continues below advertisement
On the tape, recorded in January of this year and provided to RadarOnline.com and GLOBE in a joint investigation, 52-year-old Sizemore boasts to two pals about how he arranged the pair's first rendezvous.
According to the Black Hawk Down star, it all began during a 1998 White House screening of Saving Private Ryan, when President Clinton pulled Sizemore aside from the crowd of A-listers that included Tom Hanks, Matt Damon, Ed Burns and Dennis Farina.
The premiere of the film was four years after Hurley was catapulted into the limelight after wearing that Versace dress to the premiere of ex-boyfriend Hugh Grant's film Four Weddings And A Funeral.
Sizemore claims that Clinton asked if he wanted to see the Lincoln Bedroom and after shaking his Secret Service detail, the pervy President quickly made his move!
"We walk in," Sizemore says on the tape, when suddenly Clinton, then in his second-term of office, asked point-blank, "Did you go with Liz Hurley for four years? Do you still see her?"
Article continues below advertisement
When Sizemore confirmed they had dated but were no longer together, he says the President asked for her number.
Stunned at the suggestion, Sizemore admitted to being somewhat hesitant to dole out the digits, but claims Clinton insisted: "Give it to me. You dumb mother*****r, I'm the Commander-in-Chief of the United States of America. The buck stops here. Give me the damn number."
The actor obliged, but before dialing, he says the President was already covering his tracks, thinking of his oblivious and long-suffering wife Hillary in the other room.
"Clinton said, 'I'm going to say I asked you about your uncle, Ted Sizemore, who played professional baseball," Sizemore recalls. "That's the lie. Don't forget it.'"
Then, Sizemore recounts, Clinton dialed, wasting no time in getting down to dirty business with the stunning brunette, now 48.
"Elizabeth, this is your Commander-in-Chief," Clinton said to the actress, who played Vanessa Kensington in the 1997 hit Austin Powers: International Man of Mystery.
Article continues below advertisement
And though Hurley at first thought it was a joke, she played coy, but the President wouldn't take no for an answer!
Clinton said, "Listen Elizabeth, this is the President!" Sizemore recalls. "'I don't have any time for this ****. I'm keeping the world from nuclear war all the time. I'm sending a plane to pick you up."
Hours later, he claims, Hurley was at 1600 Pennsylvania Avenue.
"While we're at the reception, I see her," Sizemore reveals, but then she disappeared through a door, trailed by a Secret Service agent.
As she disappeared into a room with the President, Sizemore charges, "Bill turns to me and he goes, 'I owe you one.'"
As to what happened after that, Sizemore declares on the tape: "What do you think? She was there for four days. He f***ed her that night."
Later, her recalled, "I asked her (Hurley), what was it like there? ...I said was Hillary a problem? And she said 'No, they sleep in different bedrooms.'"
Article continues below advertisement
"Bill said that, he intimated to Elizabeth that they have been, they're in love," Sizemore claims, "but they stopped sleeping together a long time ago and they both have separate romantic lives."
As such, the steamy affair didn't end after Hurley's visit.
Sizemore says they kept in contact for a year, until Clinton ended the sexual shenanigans because he was falling deeply in love with the charming actress, 19 years his junior.
"At a certain point, he told her, 'I don't do love and I'm beginning to think I might love you,'" Sizemore says.
Confronted with Sizemore's claims, a representative for Hurley did not deny the relationship and coyly said that she would not be commenting on her relationship with Clinton.
Later, after Sizemore's claims went public, Hurley issued this tweet:
Sizemore, who starred in Natural Born Killers before spiraling into a dark drug addiction, revealed the tryst between the politician and actress in the recorded conversation which took place at his hotel room in Manchester, Conn., where he was shooting a movie.
Article continues below advertisement
Listen to the tape, below. (It has been edited to remove the voices of the two other individuals on the tape, at their request. Both asked not to be identified.)
Warning: This video contains strong language and/or content that some readers may prefer to avoid.
radar_embed service=5min.com src="http://pshared.5min.com/Scripts/PlayerSeed.js?sid=1126&width=570&height=351&playList=518112137&sequential=1&shuffle=0"
Sizemore's claims will undoubtedly put the spotlight back on the oft-criticized marriage of Clinton, 67, and his long-suffering wife Hillary, the 66-year-old leading candidate to claim the White House in 2016.
The revelation of Hurley's affair is just the latest in a long line of women who have claimed to have bedded the President and will only be more fuel for the fire for those who believe the couple is unfit to occupy the White House.
Article continues below advertisement
It will also put new scrutiny on Hurley – whose apparent indiscretion could have remained dead and buried if it was not for the explosive audio uncovered more than a decade later. She's currently single again after reportedly splitting from Australian cricket superstar Shane Warne.
Sizemore revealed his own three-year fling with Hurley in his tell-all book, By Some Miracle I Made it Out of There.
In it, he detailed how the pair met on the set of the 1992 thriller Passenger 57 when he became instantly smitten by her "stunningly flawless ivory skin, beautiful voice and charming, throaty laugh."
At the time, Hurley was dating Grant, the 53-year-old Golden Globe winner.
"I literally couldn't conceal my awe or worshipful feelings for her," Sizemore wrote in his tell-all. "In many ways Elizabeth was the seminal relationship of my young adulthood. She taught me a lot about myself."
The stunning new disclosures of Bill Clinton's outrageous serial cheating could quash long-suffering wife Hillary's 2016 bid for the White House, sources tell GLOBE. For more details of the ex-Prez's sexual shenanigans, pick up a copy of GLOBE on newsstands Thursday.