Chelsea Clinton 'Working On' Having A Baby, Says Bill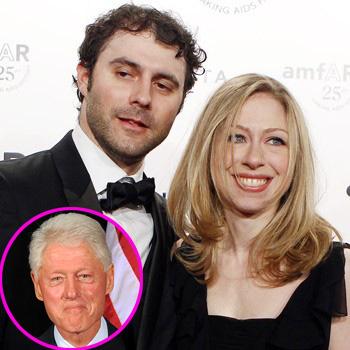 The jury's still out on whether or not Secretary of State Hillary Clinton will run for President in 2016. But according to her husband Bill, there is a title his wife could have in the near future -- grandma.
The former President was overhead telling someone at a recent event that his daughter Chelsea and her husband Marc Mezvinsky are "working on" becoming parents.
According to the New York Post, the 66-year-old revealed the couple's baby plans on Saturday at the All Ireland Scholarship Awards at the University of Limerick in Ireland.
Article continues below advertisement
Apparently when asked by a guest if he and Hillary want to be grandparents, Clinton was overhead saying that his daughter and son-in-law "tell us they're working on it."
He was less forthcoming, however, when asked if his wife is going to make her own White House bid in 2016.
He reportedly laughed and said: "You'll have to ask her."
Clinton is rumored to have been paid $250,000 to speak at the event during which 125 students received scholarships.
MORE ON:
hollywood happenings