Chelsea Clinton & Marc Mezvinsky Wed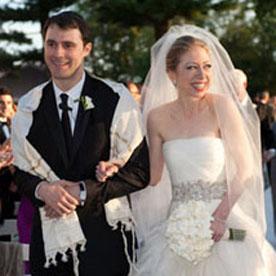 Politics not Hollywood ruled the day as former First Daughter Chelsea Clinton wed her long-time boyfriend Marc Mezvinsky Saturday, RadarOnline.com has learned.
Celebs who had been rumored to be on the guest list, including Oprah Winfrey, were nowhere to be seen. Beside the bride's famous parents, former President Bill Clinton and current Secretary of State Hillary Rodham Clinton, Democratic Party heavyweights including Vernon Jordan, Terry Auliffe and former Secretary of State Madeleine Albright made the cut however.
Article continues below advertisement
Hollywood was represented by Ted Danson and Mary Steenburgen. Mary and Hillary Clinton have been close friends since college. Billionaire movie producer Steve Bing, who once dated Nicole Kidman was also there, but his relationship is more about politics. He's given hundreds of millions of dollars over the years to Democratic Party causes and candidates.
The bride, 30, wore Vera Wang for her nuptials at Astor Courts in the small town of Rhinebeck, NY, and the famed designer herself was among the guests.
The ceremony was inter-faith, Chelsea is Methodist while Marc is Jewish. Bryan Rafanelli of Boston was the wedding planner.
Immediately following the ceremony, the bride's parents issued a statement: "Today we watched with great pride and overwhelming emotion as Chelsea and Marc wed in a beautiful ceremony at Astor Courts, surrounded by family and their close friends."