Exclusive
Bathroom Sex, Lesbian Hookups & Those Meth Rumors: Brandi Glanville Sets The Record Straight On The Biggest RHOBH Secrets & Scandals In New Tell-All Book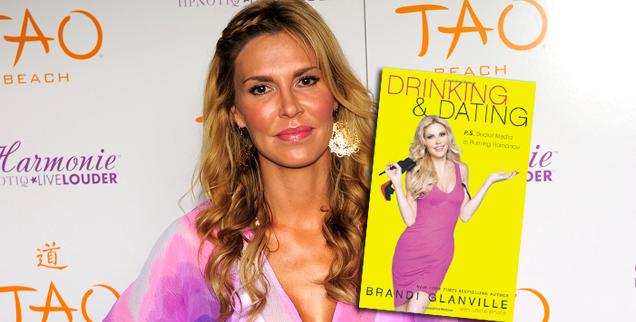 From the moment Brandi Glanville hobbled onto the scene in a stiletto and a walking cast, the scorned wife turned voracious cougar has been one of the most unpredictable cast members of Real Housewives of Beverly Hills.
With bathroom hookups, lesbian make out sessions and rumored drug use, she's made her mark over the past few seasons, and now, she's telling the truth about her wildest escapades on the show -- including some that never made it to the air -- in her new book, Drinking & Dating.
Article continues below advertisement
In one of her most notorious moments, Glanville was accused of having sex in the bathroom at Kyle Richards' White Party. Though she's previously denied it, she's now setting the record straight in the book.
"I was labeled a whore because a made out with a hot guy in the bathroom at a party at one a.m.," she writes. "Go ahead and sue me! I freely admit this totally happened. Were we having sex? Absolutely not. My fellow Housewife Lisa Vanderpump stopped us before we had the chance!"
"That's not to say we wouldn't have," she admits. "It was late and we were drinking … I didn't realize that two grown-a** adults kissing in a private room would be such an issue for these women."
But Glanville doesn't always stick to kissing men. In the steamy book, she recalls a hot make out session with a twenty-something "model groupie" at a house party in Malibu.
According to Glanville, the girl started "rubbing the side of my waist" during conversation, and the RHOBH star was "not quite sure what to do but not hating the attention."
Article continues below advertisement
And while Drinking & Dating is full of the expected blackouts and drunken stumbles, one aspect of her drinking tales is surprising: She blames some of her problems with alcohol and drugs on her ex, Eddie Cibrian, and his affair with LeAnn Rimes.
The Craziest & Most Outrageous Celebrity Rumors — What's True, What's Not?
"I wanted to blame my ex-husband for every pill I ever popped," she writes, admitting a fondness for Lexapro. "He was the reason I could single-handedly keep a liquor store in business. I convinced myself that the heartache he caused me was the reason I sat in a Beverly Hills jail cell overnight after getting slapped with a charge of driving under the influence. …Everything was his fault."
Article continues below advertisement
But soon, she says she realized, "The only person I could really hold responsible for drinking so much that I stumbled out of a restaurant with the top of my pretty Alice + Olivia dress pulled down showing my boob and the bottom tucked up to reveal a black thong with my tampon string hanging out, was definitely all me."
And while she's ready to take responsibility for her out-of-control drinking -- partly caused, she claims, by the fact that she is a "lightweight" -- and pill-popping, Glanville also admits that she was wrong about one of the biggest RHOBH controversies she ever started: Kim Richards never smoked meth.
Back in 2011, new castmate Glanville accused Kim of using crystal meth during a tense game night on the show. Now, she admits, "Everybody knows I run my mouth way too much and sometimes I'm right, but not always #SorryKimRichards."
"I hope that's why people who watch the show can relate to me," she writes. "I believe on some level that everybody is a little f*cked up."
For more of Glanville's shocking tell-all revelations, stay tuned to RadarOnline.com!