'I Tried Being A Lesbian… But It Didn't Work Out': Brandi Glanville's Same-Sex Confession After Her Sexy Smooch With Costar Carlton Gebbia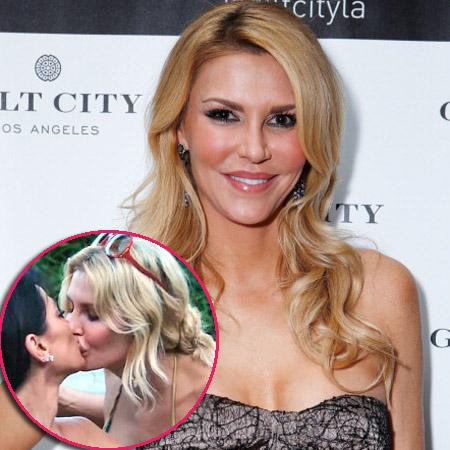 After swapping spit with fellow housewife Carlton Gebbia, an unabashed Brandi Glanville has opened up about her sexuality, admitting that she has experimented in the past – but it "didn't work out,."
During filming of Real Housewives Of Beverly Hills, the reality star gave the stunning English designer a naughty welcome to the 90210, with a sexy smooch in a swimming pool. She later said in a confessional interview, "Carlton is a bad-ass — she's hot, I like her."
Article continues below advertisement
Now, Glanville is revealing the sexy secrets behind the on-air kiss.
"As I have said before, I love beautiful women, and Carlton is one of them. However neither one of us are lesbians. I have actually tried to be, but it just didn't work out for me," Glanville wrote on her Bravo blog.
"I can't speak to Carlton's experiences, because I honestly have no idea what they have been," she said, adding she was drawn to her co-star because she's "fun, playful, and non-judgmental."
During Monday night's episode, Glanville and her new season four costar continued to flirt while shopping for lingerie, when they started talking about the size of Gebbia's breasts.
Glanville eventually reached over to cop a feel!
"There's a lot of boob," she joked as she touched Gebbia's breast in the middle of the costume-lingerie store.
"We definitely gravitate towards one another," Gebbia told the cameras in her own confessional with a sly smile on her face. "We like to play."