Brandi Glanville: I Did NOT Have Naked Sex At Kyle Richards' White Party; 'Disgusted' By Faye Resnick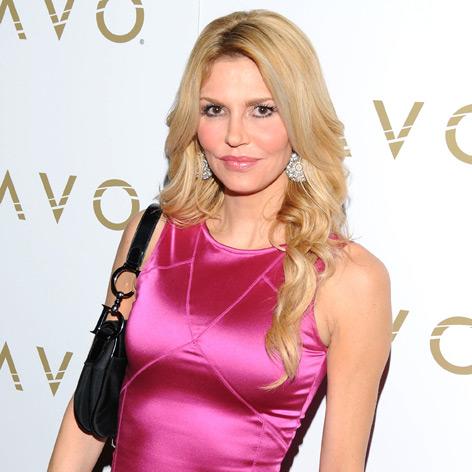 In her 'take no prisoners' new blog, Brandi Glanville is flat out denying she got naked and had sex with a man at Kyle Richards' now infamous White Party, and furthermore, she says she's "disgusted" by Real Housewives hanger-on Faye Resnick, who pointed the finger at her, in last week's explosive episode of RHOBH.
VIDEO: Brandi Glanville: 'I'm Not A Slut…Or A Stupid B*tch!'
Writes Glanville, "Faye, Faye, Faye. I think that she just makes things up in her head to get camera time. I wasn't found naked in a bathroom in any way shape or form. I simply had a ten-second, fully clothed makeout session with a hot man. The only person that walked in was Lisa (Vanderpump) and she pulled me out of the bathroom by my ear like a good mum. (BTW I dated that hot man for six months after "bathroom gate". We are still close friends, in fact he is my real estate agent!)
Article continues below advertisement
In her Bravo blog, The Real Housewives of Beverly Hills stunner, 40, whose husband Eddie Cibrian famously left her for singer LeAnn Rimes, 30, also denies she's a serial flirt with married men.
The accusation that Glanville routinely hits on married men came up during Adrienne Maloof's vodka launch party, which Glanville was NOT invited to, given their ongoing feud. (Maloof's party was also featured on last week's episode.)
Article continues below advertisement
"One time, Yolanda jokingly asked me to stand in for her and put my arm around David (because she is cool like that and a secure woman). That is the extent of my married men flirtation."
Brandi goes on to call most of the castmembers (except for Lisa and Yolanda) "incredibly insecure, and insecurity usually breeds bitchiness."
EXCLUSIVE: Taylor Armstrong Was Boozing Long Before Husband's Suicide!
Also in her blog, the former model says she's not surprised to hear that Adrienne and her husband, Dr. Paul Nassif, have split.
"I wasn't shocked to hear the news that Adrienne and Paul were separating. But I thought the timing was so interesting. How do you have a huge party with all of your "friends" one day and then decide to separate a few days later on the date of Lisa's party?" she writes.
The season finale of The Real Housewives of Beverly Hills airs Monday at 8/7c on Bravo, with part one of the explosive reunion special airing immediately afterwards.