Caught In A Lie: The X-Rated Email Proof That 'Teen Mom' Farrah Abraham Concocted The Porn Tape Scam She Now 'Regrets'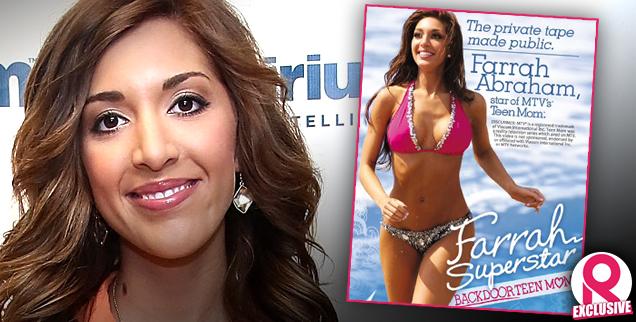 Farrah Abraham has long insisted that she shot her sex tape as a "private" tape which was later leaked and released as Backdoor Teen Mom, but RadarOnline.com has obtained the definitive proof that proves once and for all that the 'XXX-'Teen Mom' star concocted the entire sham.
In the mother-of-one's email sent to Vivid Entertainment on March 27 last year -- subject line "Dream'N" -- Abraham detailed her desire for her "first at home sex tape" with hopes of S&M, anal sex and public voyeurism.
Article continues below advertisement
"After being cute and sexy I want to rough up my boy toy a bit, and dominatrix with him," Abraham, 22, wrote in the explicit document, obtained exclusively by RadarOnline.com.
"I'm on the counter top, I grab wipecream for him to eat off me,he's doing me and were making out, some high times and almost climaxes and then I want Anal in the shower, (I LOVE SHOWER SEX YA) he sucks my nipples and then I turn around bend over and he places us so the water is running on my ass after he c*ms."
Article continues below advertisement
"It made it hard to have friends and a private life and to trust family, who I feel use me for money," she said, last week. "If I went back in time, I would not have done it. The sex tape ruined my life!"
Those comments were a far cry from the graphic and seemingly exhilarating email she sent to Vivid before filming.
Abraham detailed, "I grab my wip, my face mask, and by three, I get boss and wip him and throw him around, I make him put on black gear, and I basically Use my dominatrix powers to make him eat me out, suck my nipples and be my B*tch for a sec," Abraham writes in great detail."And then I hand cuff him, and I make him say kinky sh*t to me and say phrases like "He loves my p*ssy"etc. I say I want huge c*ck, and hard d*ck "and I look at him and say "ready to give it to me , I undo his cuffs & my guy picks me up, and puts me on the kitchen counter and says he's hungry for p*ssy,(OMG HOT lol)."
Finally, the ex-MTV star brought up the prospect of voyeurism.
"I tell him before were done I want a rush I want to do something risky and want to mix it up," Abraham wrote.
"Car sex scene epic back seat and front seat shots, with chance of public seeing always a rush."
The former Teen Mom poster child ended the email saying, "That's WHAT I NEED."
That wasn't the only regrettable decision Abraham made in 2013; she concocted a fake relationship to land a gig on VH1's Couples Therapy but her "boyfriend" backed out and exposed her plot.
She'll also have some explaining to do to her father, who insisted to RadarOnline.com the tape was always meant for private use only.
But the good news for Abraham is that her porn tape - whether she regrets it or not - was undoubtedly successful, amassing more than three times the viewers in the first 12 hours of release than Kim Kardashian's sex tape with Ray J.
Do you think Abraham should stick to writing books and take advice from her own email when she said, "Maybe I should write a better 50 shades of grey for my next book"?