Exclusive
Farrah Coached Me To Lie About Our FAKE Relationship! Abraham's Faux Boyfriend Reveals How Desperate 'Teen Mom' Star Concocted Their Romance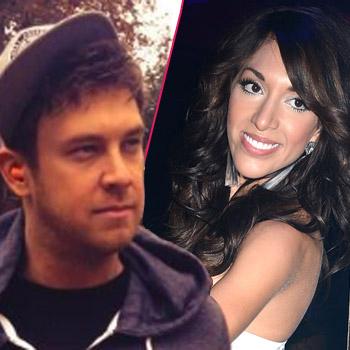 A reality TV vet since the age of 16, Teen Mom 2 star Farrah Abraham knows better than most what it takes to create the "reality" that appears on-screen. Now, the fake boyfriend she convinced to star alongside her on Couple's Therapy is opening up in a bombshell interview with RadarOnline.com and dishing all the juicy details about their scheme.
Although fans saw the XXX-star cry tears of betrayal on the VH1 show's premiere, her supposed "boyfriend," DJ Brian Dawe, claims that Abraham was behind the elaborate relationship hoax from the beginning.
Article continues below advertisement
"Farrah got my cell phone number from my agent and asked if I would be interested in doing any more reality TV," Dawe, who previously appeared on VH1's Master of the Mix, tells RadarOnline.com exclusively. "I was intrigued and interested."
Abraham eventually came clean to the Orlando-based DJ, telling him she needed a boyfriend to star on Couple's Therapy – and asked if he'd go along with the idea.
"I had no ... interest in dating Farrah in real life," he confesses. "But, I got myself in this situation because I was only thinking about the profit I would be making from doing this show."
Dawe blindly agreed to the deal, with Abraham instructing him to just follow her lead. Before he knew it, their relationship had gone viral -- after she tipped off the paparazzi about an Orlando park outing.
With all the media attention – and VH1 producers leery about the relationship – Abraham concocted a web of lies, Dawe claims, so their stories would always match up.
"Farrah and I spent lots of time talking on the phone and communicating via text to come up with fake scenarios that would possibly cause difficulties in our fake relationship," he reveals.
Article continues below advertisement
"We discussed how we met, places we had been together, how we hid our relationship from the public, fights that we had been in ... all of it was obviously false," he says. "The whole task of it all was absolutely ridiculous, and I felt a huge amount of guilt agreeing to live out these lies on national television, as I am not a person to ever lie or be dishonest."
In good conscience, Dawe backed out from the reality TV deal, leaving Abraham to appear on Couple's Therapy alone.
Even after producers learned the romance was a sham, they allegedly demanded that he still come on the show, Dawe claims.
"It was absolutely absurd," he vented. "I was shocked that the network STILL wanted to produce a reality show based on this relationship, even though I had told them it was a complete lie."
Although Abraham continues to stick by her story that their romance was one-hundred percent real, the Orlando-based DJ counters: "I have countless friends and business associates that will attest to the fact that this entire situation was concocted for profit, and that no real relationship ever existed."
"I believe that this situation is embarrassing for Farrah, and for the producers, who knew the relationship was a lie before the participants moved into the house where the show was to be filmed."