FAKE-arazzi: Tori Spelling & Husband Dean Caught Staging Paparazzi Photos At Pumpkin Patch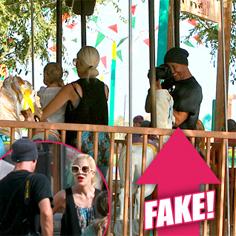 The family that poses for paparazzi pics together stays together? Tori Spelling brought along her own personal photographer for a day at the pumpkin patch in L.A. on Sunday, October 13, and RadarOnline.com has the behind-the-scenes photos that show how what looked like a sweet family bonding day was really a fake set-up to earn Tori some cash!
Spelling and her husband, Dean McDermott, arrived at Pierce College Farm in Woodland Hills, Calif., with children Liam, 6, Stella, 5, Hattie, 2, and Finn, 1, in tow, as well as Dean's son Jack, 15, from his previous marriage. And instead of enjoying a care-free day together, the family quickly got to work, following the direction of a photographer from a prominent pap agency who accompanied them.
Article continues below advertisement
"Tori and Dean posed in a pumpkin patch, on a carousel, hay bales, wherever the photographer, a man wearing a black beanie, told them to go," an insider says.
Indeed, the shoot was all in a day's work for the pap-friendly pair. Says the source, "It's well-known in the industry that Tori does staged photos to bring in extra income as she gets a cut of the sales."
But how do her children feel about being props in her money-making scheme? Spelling previously admitted that her son Liam once told her, "I hate paparazzi. Next time I see one, I'm gonna spill soda on him, call him a b***h, and then maybe I'll kick him in the wiener."
What do you think? Was Tori smart to earn a little cash during family day or should she have focused on enjoying the moment with her kids? Let us know in the comments!