Exclusive
'Couples Therapy' Producers Caught Red-Handed Trying To Force Farrah Abraham's FAKE Boyfriend To Film Scenes — AFTER Being Told The Relationship Was A Sham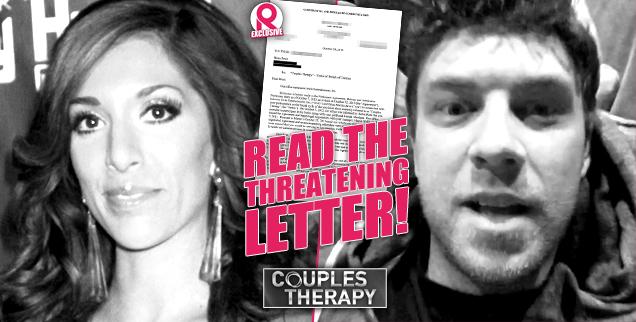 It's an UN-REALITY television scandal of epic proportions.
RadarOnline.com has obtained proof that producers of VH1's Couple's Therapy tried to force the faux boyfriend of XXX-Teen Mom Farrah Abraham to shoot scenes for their "reality" show AFTER being told their romance was a fraud!
In a letter sent to Brian Dawe by lawyers for Irwin Entertainment, the production company behind the program, he was threatened him with a lawsuit if he didn't agree to film alongside the mother-of-one.
Article continues below advertisement
"Our client, Irwin, relied on repeated representations made by both yourself and your manager that you and Farrah Abraham were in a relationship and you desired to participate in the Series," a lawyer from the firm Rowan & Maron wrote in a letter dated October 28.
"Be advised that Irwin reserves the right to pursue any and all claims for damages incurred by Irwin and/or Viacom Media Networks (VH1) due to any misrepresentation and/or fraud on your part regarding your intent to participate in the Series and/or your relationship with Farrah Abraham."
Article continues below advertisement
The letter — marked "confidential and privileged" — was sent less than 24 hours after Dawe emailed a producer to advise them of Abraham's scam.
In the missive, obtained by RadarOnline.com, he wrote: "I have informed you previously that I will not be participating in the show for the following reason: My professional ethics and career objectives preclude my participation in a program which purports a factual relationship between me and other participating that are not based on a factually reality."
Read the full email below.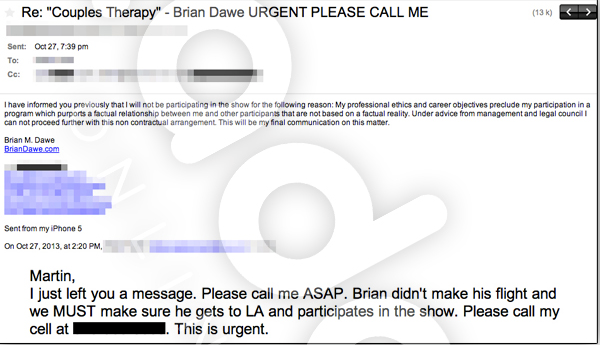 Undeterred, the lawyer for the show charged: "Your fans are undoubtedly eager to have the opportunity to get to know you and Farrah better, and in addition to negatively impacting any future relationship and/or opportunities with Irwin and/or Viacom Media Networks, your failure to participate as agreed will surely disappoint them."
The chain of communication will undoubtedly raise questions as to why VH1 would attempt to force Dawe to appear on-screen about a romance which he'd shamelessly advised producers was nothing more than fake.
Article continues below advertisement
It also raises queries about why he would enter into an agreement with the network in the first instance.
"I felt a huge amount of guilt agreeing to live out these lies on national television, as I am not a person to ever lie or be dishonest," Daw told RadarOnline.com in an exclusive interview on Thursday.
According to Dawe, he never signed a contract to appear on the show; he'd planned do so upon his arrival to film in Los Angeles on October 27, which never happened.
Dawe said he no regrets about quitting Couple's Therapy -- and said by speaking out, he hopes to clear his name.
He said: "This entire situation was concocted for profit and no real relationship ever existed. Farrah and I's relationship was strictly a professional relationship. I had no intentions or interest in dating Farrah in real life."
I realized that lying was wrong no matter what the circumstances were and decided my morals and integrity were worth more than any amount of money."
Article continues below advertisement
When asked to comment, John Irwin, the president of Irwin Entertainment, Inc., told RadarOnline.com that his organization STILL believes Abraham and Dawe were in a legitimate relationship.
"Farrah and Brian presented our company with plenty of evidence that they were 100% in a relationship. We still truly believe they were dating, but after Brian received a huge amount of negative backlash for dating a porn star, he suddenly started denying the relationship was real and backed out of the show."
But, Irwin cautioned: "If they were not dating and went to all the work to fake a relationship, that is just a sad state of affairs."