'Teen Mom' Farrah Abraham Sex Tape: Her Dad Breaks Silence About How 'Sin' Will Affect 4-Year-Old Daughter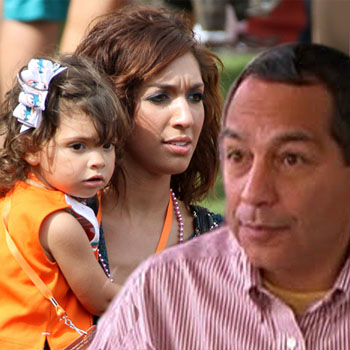 XXX-rated ex-Teen Mom Farrah Abraham made her sex tape with adult actor James Deen for personal use and does not intend for it to be released, according to her father.
Speaking exclusively to RadarOnline.com, devout Christian Mike Abraham said his daughter, 21, told him it was a "private matter" and insisted the sex tape is not being shopped around for public release, despite her statement that she would sell the video for $2 million.
Article continues below advertisement
Which begs the questions, how does single mom Farrah intend on telling her own daughter, little Sophia, that mommy is a porn star?
"At this time, Sophia is four-years-old and she does not know the difference between good, bad or indifferent," Mike said from his home in Nebraska.
"In regards to down the line, just like anything, we all have consequences for our actions and I am sure Farrah will have to address this with Sophia, in the event the tape ever became public.
"I cannot comment as to how she would do that, but I do know that she has a great relationship with Sophia and is a terrific mother."
He added, "Both of these women, Farrah and Sophia, have had to grow up very fast as a result of being in the public spotlight.
"For me, the bottom line is this -- my job is to teach both of them forgiveness and acceptance and what love is -- and if I did have to talk to Sophia about this, I would be telling her those three important things."
Article continues below advertisement
When asked how he would feel if his daughter's sexual exploits were made public, Mike said there would be no "negative connotations" coming from him.
"I am a man of very strong faith and I have been taught about forgiveness," he said.
"Farrah, like everyone else on this planet, is subject to sin. If something like that (a sex tape) came out, I may not like it, but the bottom line is that I love my daughter.
"For as long as I am on this earth, I am tasked with motivating her to be the best person she can be. And not be judgmental doing it."
Could he face watching his daughter involved with Deen, who was named "Male Performer of the Year" by Adult Video News at the age of 22, making him the youngest actor to have won the award?
"I will give you an example, if you have a daughter and she got married, you hope to God that she and her partner have a healthy sexual relationship," Mike told RadarOnline.com.
Article continues below advertisement
"But in the end, it is none of your business. So when it comes to this, Farrah's activities are like anyone's private activities because she told me this was a private matter."
And probed on if he was proud of Farrah for shooting a tape with Deen, whose real name is Bryan Matthew Sevilla, Mike insisted: "She's my flesh and blood... I am not judging."
According to Deen, Farrah hatched the plan to have the video come out as a 'personal sex tape,' but details inadvertently leaked.
"I think what happened is that (the porn company was) going to pass it off as a 'sex tape' and somebody saw us coming out of a building together and people asked me what's going on ... so I was like we're making a porno," he said on Tuesday.