Farrah Abraham Fires Back At 'Couples Therapy' Co-Star Taylor Armstrong: 'Keep My Name Out Of Your Mouth!'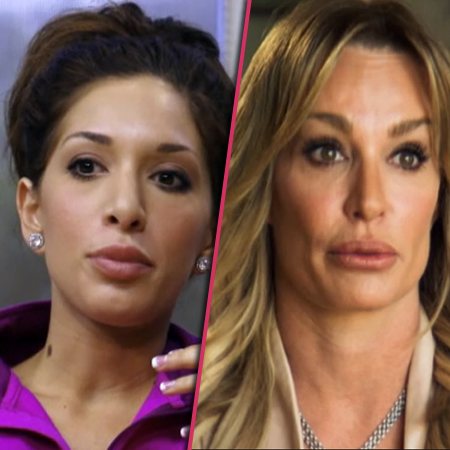 Couples Therapy finished filming weeks ago, but the real drama is just beginning! After Taylor Armstrong slammed fellow castmate Farrah Abraham on Bethenny Frankel's talk show earlier this week, Abraham fought back in an angry Keek post, telling Armstrong, "Keep my name out of your mouth!"
"I wanted to address Bethenny Frankel's show with Taylor Armstrong," Abraham began.
Somewhat confusingly, she continued, "Again, this is a show for women by women. But we only want to take the best woman on Couples Therapy presumably herself who is trying and who is hard-working and doesn't lie, just doesn't really want to talk to alcoholics on the show."
Article continues below advertisement
"So thank you Taylor for saying your piece," Abraham said. "I don't need to lie, nor do I want anything to do with you. So thank you for talking about me on your own special. I really appreciate it. And keep my name out of your mouth."
The caption on the video was even more to-the-point: "Bethany sic Frankel & Taylor Need to STOP talking about me!" Abraham wrote. "#SoDelusional #StayAwayFromMe #Alcoholics #SoFAKE #FU"
As RadarOnline.com reported, Armstrong told Frankel Monday that she got a "bad vibe" from the Teen Mom star turned porn queen. "When I first met her https://radaronline.com/exclusives/2014/01/couples-therapy-recap-farrah-abraham-fake-jon-gosselin-taylor-armstrong/I didn't know anything about her, I knew nothing about her past, I didn't know about the sex tapes and all these things…" Armstrong said. "I was trying to mentor her in some ways and then when this sex tape and lies started to surface I felt really betrayed because I thought I could be spending my time here in this house working with people who really want the therapy."
Article continues below advertisement
Frankel returned fire in November, saying "people like to be controversial" after appearing on the show to "make it 15 or 16 minutes …"
Whose side are you on? Let us know in the comments!