Exclusive
Farrah Abraham BLASTS 'Rude, Degrading' Bethenny Frankel After Controversial Talk-Show Appearance: 'She's In A Dark Place In Her Life… Be A Better Mother'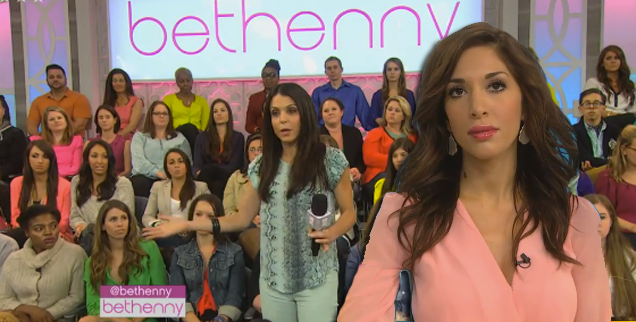 Article continues below advertisement
According to Abraham, 22, it's not what she signed up when she agreed to appear on the nationally syndicated chat-fest.
"Before going on the show, I was told that it would be a positive and inspirational talk for mothers and business women," the star of Backdoor Teen Mom, an adult film, told RadarOnline.com in an exclusive interview.
"But as soon as I met Bethenny, it turned into a judgmental zone. She did not like how I valued my daughter's opinion and care so much about her that I allow her to have her own voice.
"Then, she brought up very old misconstrued tabloid topics like my daughter's unibrow and had judgmental women who were in the audience act disrespectful towards me and twist my opinion -- as a mother, I care about my daughter's hygiene -- to suggest Sophia would not be beautiful, even if she had a unibrow.
"It was rude and I felt Bethenny siding with these women and their untrue statements."
Abraham, who has also launched her own sex toy line, described Frankel as "degrading to women" and "hating" on their gender.
Article continues below advertisement
"During the show, she brought up my sex toy line… and tried to encourage the audience to not buy my line because 'I'm a Teen Mom and that's all I will ever be,'" added Abraham.
"This was very rude as my life has moved on from all of this, plus, it made no sense at all being the first release of the sex toys are for men not women. Perhaps her ex-husband Jason will be purchasing my sex toys... not women like Bethenny."
She also blasted the ratings-challenged host as a hypocrite for criticizing her raft of plastic surgeries, without disclosing her own enhancements.
Charged the adult star: "Overall, Bethenny seems to be in a dark place in her life and it was shocking to see how against women she really is.
"I hope she comes to better terms with herself so she can be a better mother, move on from her divorce -- and be a better television host. I wish her all the best in her future and her career."