Exclusive
'Teen Mom' Farrah Abraham: I Take My 4-Year-Old Daughter Sophia To Therapy!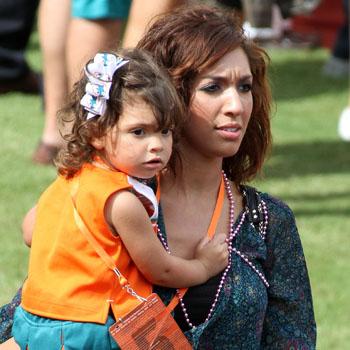 Farrah Abraham's transition for Teen Mom to XXX star has been so difficult on her young daughter that she is taking her to therapy.
"I take her to mommy and baby counseling once a month," Farrah, 22, tells OK! Magazine exclusively about her 4-year-old daughter Sophia.
"I just make sure that her world is not really affected by her mom being a businesswoman who likes to travel a lot."
Farrah has been on a whirlwind promotional tour since her porno sex tape was released, making personal appearances at bars, conventions and gentlemen's clubs like Crazy Horse III in Las Vegas, and she said her absence upsets her daughter.
Article continues below advertisement
"Every time I leave, it gets harder on Sophia because she wants come with me," Farrah admits to Ok! Magazine.
The Back Door Teen Mom said she has frank talks in therapy about where she is spending time without her little girl.
"I do tell her that I go to nightclubs. I do tell her that Mommy will be here in this city at that club. I make her aware. I have nothing to hide," Farrah insists.
For more exclusive details about how little Sophia is handling the therapy and her mom's adult lifestyle pick up the new issue of Ok! Magazine on newsstands now.