Partying Instead Of Parenting: Farrah Abraham Chooses VMA After-Party Over Daughter's First Day Of School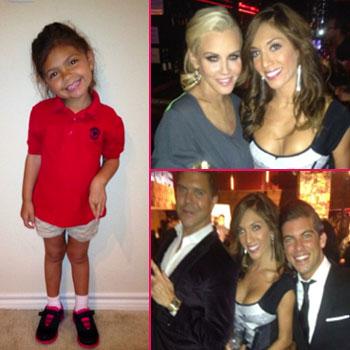 It's a bittersweet moment every mom looks forward to for years: But when Farrah Abraham's daughter Sophia was getting ready for her first-ever day of school in Austin, TX, the Teen Mom turned porn star was hundreds of miles away, partying into the early morning hours in New York City.
Farrah was a guest at In Touch magazine's "Idols and Icons" VMA after-party at NYC's Finale on Sunday night after the awards show.
Article continues below advertisement
Posing with Jenny McCarthy, the stars of Bravo's Million Dollar Listing: New York, and former Jersey Shore star Angelina Pivarnick, Farrah happily tweeted pics until close to 2 am.
Just a few hours later, she posted a picture of her daughter, Sophia, heading off to her first day of pre-K, but who took the photo?
Sophia attends a private school in Austin, TX, Farrah revealed in July. And the first flight out of New York City to Austin Monday morning was at 9:30 am -- minutes after Farrah posted the shot.
And while it's possible that Farrah flew private to be back in time for her daughter's big day, it's hard to believe she wouldn't have posted a picture bragging about it.
In recent months, Sophia has been raised by Farrah's parents while the porn queen made appearances at strip clubs and sex expos.
Just weeks ago, Sophia's paternal grandmother spoke out to criticize how fame-hungry Farrah is raising her daughter.
"My heart breaks because Farrahhasn't been focused on Sophia's needs for a while now,"Stormie Clark, Sophia's paternal grandmother told In Touch magazine.