Bethenny Frankel Returns Fire At Farrah Abraham: People 'Like To Be Controversial'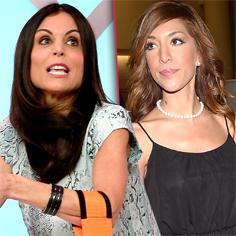 Article continues below advertisement
Well now, Frankel has continued the controversy.
In a new interview, Frankel admitted that she has not spoken to Abraham and said she likes to interview people like the former Teen Mom because of their personal drama.
"I like to have a conversation with someone that I think will show a different side, and a different conversation, and reflect human behavior, but a lot of those people are controversial for a reason, and they like to be controversial," Frankel said. "That's what their brand is, being controversial and continuing to do that."
With the ball in her court, Frankel continued on to swing at Abraham.
"It's really the people that are known for being controversial, there's a reason for it, and they leave and they kind of plant seeds so they will grow to make it 15 or 16 minutes," she said.
But those 15 minutes do include Frankel's name — and she isn't bothered by the situation. In fact, it only helps her.
"It's okay," Frankel said. "I get something out of it, I guess they get something out of it. It is what it is."