Pucker Up! Jenelle Evans Slams Farrah Abraham's New Lip Injections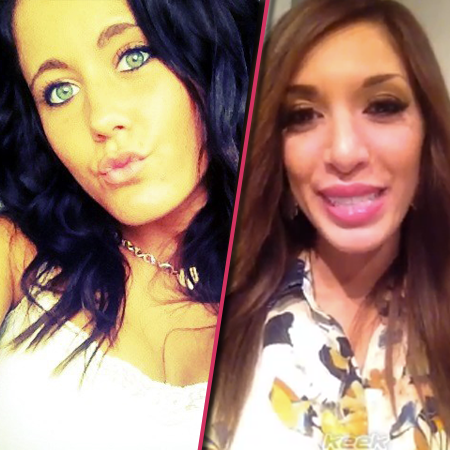 Your lip injections are worse than my boob job!
Farrah Abraham is getting slammed by another surgically enhanced MTV star after she debuted a fuller, very swollen pout in her latest Keek video, RadarOnline.com has learned.
Not long after posting the online video, fellow Teen Mom star Jenelle Evans took to Twitter to mock the XXX-star's new lip injections.
"I'm sorry, but I can't see Farrah's teeth anymore when she talks, can you?" Evans tweeted on November 5. "And she just got her teeth done!"
Article continues below advertisement
Evans didn't stop there, slamming the Backdoor Teen Mom for repeatedly going under the knife.
"I rather be all natural than completely fake," she continued, perhaps forgetting her own boob job in 2012.
"I mean it's almost every part of her body!
"She's taking shi*t waaaaaaay too far."
After Abraham got breast implants in 2010, a nose job and chin implant in October 2012, and another boob job this May, the Teen Mom turned porn star had her chin implant removed on September 30.
Last month during an appearance on Bethenny Frankel's talk show, Abraham revealed that she had her lips enhanced the previous day.
"I am totally experimenting right now, and it's a little bit swollen," she confessed about her new pucker.
Has Farrah's "experimenting" gone too far? What do you think of her fuller lips? Tell us in the comments below.