It's Getting NASTY In 90210: Brandi Glanville Says The Difference Between Costar Joyce Giraud & Her Is That I Won't Settle For A SHORT & RICH Man!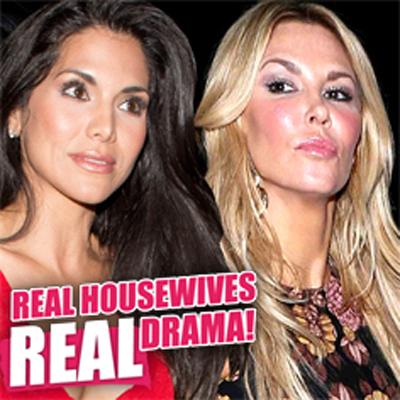 The drama has turned nasty between Joyce Giraud and Brandi Glanville. This time, the ex-wife of Eddie Cibrian has shot back at the former Miss Puerto Rico who previously said she'd never find a man.
"On the husband/man topic, I date plenty -- maybe even too much -- and have zero issues getting a man," Glanville vented on her Bravo blog.
But according to the 41-year-old, the main difference between Giraud and her is her costar's husband, Michael Ohoven!
Article continues below advertisement
She wrote, "The difference between myself and Joyce is that I won't settle. I have to be physically attracted to the men I date. I want butterflies, chemistry, the whole shebang.
"If I just wanted to marry some short, rich guy that promised to make me famous I could have done that long ago."
On Monday's episode of The Real Housewives of Beverly Hills, Brandi went on an F-bomb filled rant and eventually left the dinner party in tears.
She explained her behavior with Joyce, claiming: "Negative bad people bring out the temperamental, f-bomb-swearing side of me."
"Joyce thinks she is perfect -- so much so that her New Year's resolution wasn't about improving herself at all but was about me. Obsessed much? Please Joyce focus on your own issues, of which there are plenty," the mom-of-two said.
Glanville went on to explain that of all her co-stars, Yolanda Foster was the only one who understood the "devastating time" she was going through.
Article continues below advertisement
"Yolanda is very aware of what was going on in my life at this time, unlike most of the rest of the girls. She knows my dad is seriously ill and we are not on speaking terms. She knows the heartbreak I've been dealing with, having Chica my dog disappear and handling my children's devastation from that. There is also a lawsuit from my former landlord and a few other issues I'd rather not make public," Glanville wrote.
Are you Team Brandi or Team Joyce? Tell us in the comments below!