Joyce Giraud Slams 'Miserable' Brandi Glanville: No Man Would Want To Spend His Life With Someone Like You!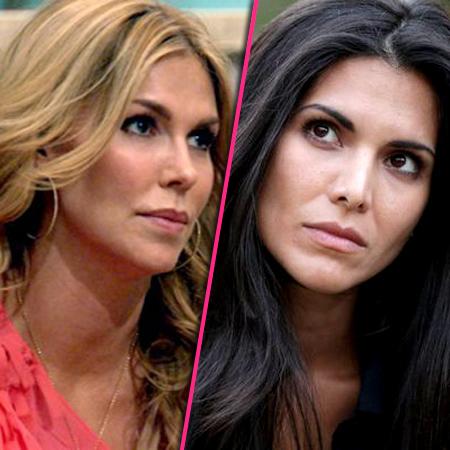 Joyce Giraud continued to claw into Brandi Glanville after Monday's episode of The Real Housewives of Beverly Hills.
After Brandi told Joyce's husband to stop meddling in the ladies' personal affairs, the former Miss Puerto Rico stood by her man.
"I was blessed to have my loving husband… who will always have my back. Although he is known for his strong opinions, he did actually not intervene during our conversation at the beginning, not even when Brandi brought up her mutual friend attack," Joyce vented on her Bravo blog.
Article continues below advertisement
"He knows I can defend myself very well. But when Brandi started calling me 'stupid' and continued the 'f--- yous' at me, he could not tolerate it any longer. You might agree or disagree with me here, but I would not expect any less from my partner," Joyce added.
Joyce continued to rant about Eddie Cibrian's ex-wife – noting that she likely won't ever find a man who would put up with her "negative" behavior.
"I think Brandi is a gorgeous girl and if she is lonely or miserable its only because she wants to be. No man would want to spend the rest of his life surrounded by someone so negative and mean," Joyce wrote.
During the on-screen squabble, Brandi went on an F-bomb filled rant, listing her missing dog and cheating ex-husband as reasons behind her misery. She eventually left the dinner party in tears.
But Joyce didn't buy the act, slamming Brandi for "always playing the victim."
"Start counting your blessings and stop playing the victim. How difficult can her year have been? While I feel very sorry that she lost Chica, she is a best selling author, is on a hit show, and got a new home… Is life really that bad?
"Brandi is in the top percentile of the world. She lives a blessed life. It's hard for me to have pity for someone like that. There are mothers out there who are struggling to pay rent and put food on their children's table," Joyce concluded.